Mr Ben & the Bens
Elsewhere, Margate.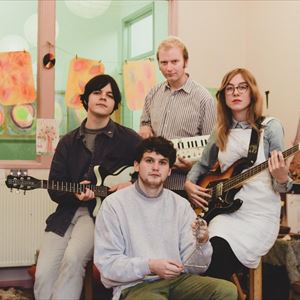 Venue is located in a basement down a set of stairs without step free access.
Licensed bar. Please bring ID.
Elsewhere is less than ten minutes walk from Margate Train Station and less than a minute to nearby bus stops and taxi offices.
Under 18s must be accompanied by an adult. We cannot issue refunds to under 18s who are not accompanied by an adult.
More information about Mr Ben & the Bens tickets
Art's Cool Present
Mr Ben and the Bens
+Special Guests

An intoxicating mix of perfectly fitting melodies and vocal strafes' Clash magazine
'Shimmering with jangling optimism' Picadilly Records
'Perfect pop, record of the week' BBC 6 music, Marc Riley
Born as a recording project in a barn in Northern Lancashire in 2012, Ben Hall recorded and self released 10 albums under the guise of a naively drawn character 'Mr Ben'. After releasing the sellout split EP on Bingo Records in 2017 the side project now turned live outfit with their first gig actually happening live on BBC Radio 6. After releasing two more sellout records with Bingo and numerous UK tours the 4 piece are known for their captivating, costume clad, joyous, pop performances. Mr Ben & the Bens sound like they were baptised in water from the church of indie classics, the songs of the Lancaster Polymath echo Belle & Sebastian, Teleman, & Gorkys Zygotic Mynci his genuinely original modern songwriting.