Mr Ben & The Bens Tickets
Elsewhere, Margate.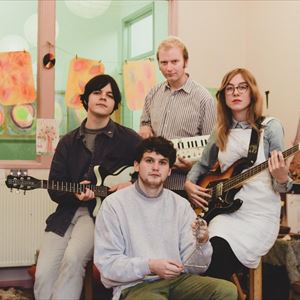 Venue is located in a basement down a set of stairs without step free access.

Licensed bar. Please bring ID.

Elsewhere is less than ten minutes walk from Margate Train Station and less than a minute to nearby bus stops and taxi offices.

More information about Mr Ben & The Bens tickets
Ten years of work. Twenty releases released. Thirty million pounds banked. It's a year for irrelevant milestones for Mr Ben & the Bens, as they return with a new album, which is just over forty minutes long.

On 'Good Day for Drying' Ben airs out songs that have dwelt in his head for a while. Songs that have been waiting for a day when they can be put out there, on show, and left subject to the volatile weather of public opinion.

The album came together quickly, once Ben was no longer bound by finickity schedules, contractual obligations, and the unflinching demands of department store stock-buyers hungry for ceramics to flog to the kind of people who use digital platforms to scream 'SHOP LOCAL' but cross the road to avoid homeless people.

Having been written some time ago, many of these songs were test-driven during solo gigs throughout Sheffield in the first half of 2022. A week in the Tesla Studios in Meersbrook with Glover and the bulk of it was there. Nobody honestly knows what mastering is (trade secret), but that happened, and now you can listen to it.