Mutant Movement Goth Weekender, Whitby Oct 2019
The Met Lounge & Ballroom, Whitby.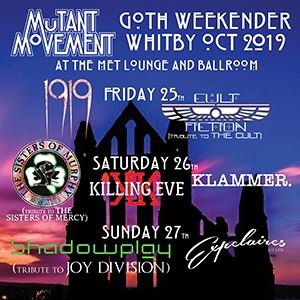 Those with weekend tickets will be issued a wristband which must be worn throughout the events they wish to attend, anyone wearing a wristband which looks like it has been tampered with will be refused entry. Tickets are not transferable, anyone who buys tickets for a group of people must arrive with the whole group and may be asked to show ID, as may anyone attending these events.
This event is for over 18s only - No refunds will be issued for under 18s.
More information about Mutant Movement Goth Weekender, Whitby Oct 2019 tickets
STAGE TIMES FOR THESE EVENTS WILL BE SUCH THAT ALLOW TRAVEL TO WHITBY FRIDAY EVENING AND TRAVEL HOME SUNDAY EVENING

Friday 25/10 8pm: DOORS OPEN

8:30pm: CULT FICTION (The UK's premier tribute to The Cult) facebook.com/Cultfictionuk
Cult Fiction are a 5 piece UK/Midlands based tribute band celebrating the music of The Cult right across their career from all era's, especially Love, Electric and Sonic Temple. As the first band booked by Mutant Movement, they hold a special place in the history of these events and it will be a privilege to have them return and be the first band on stage at this great event in Whitby.

10pm: 1919 1919.co.uk/
An original contributor to the Goth genre, the band formed in December 1980 in Bradford and set about recording heavy, melodic, intense dance music with no frills and pretensions. 1919 had chart success with the singles "Caged","Repulsion", and "Cry Wolf" as well as the 1982 LP "Machine", and recorded two Peel Sessions. Their third studio album, "Futurecide", is out now.

11:30pm - 1am: MUTANT MOVEMENT DJ SET
Old School Goth, Punk, New Wave, Retro Alternative & Post Punk floorfillers.
_____________________________________________________________

Saturday 26/10 5:30pm: DOORS OPEN

6pm: KLAMMER klammer.co.uk
Hailing from Leeds, formed by UK Producer Steve Whitfield (The Cure/The Mission) in 2014, Klammer draws from the members' shared love for all things angular, dark, loud and melodic. Klammer offer an enticing contemporary twist on the post-punk attitude, blending elements of goth rock, punk rock and dark wave, all with dark pop sensibilities. They received great critical acclaim for their last album 'You Have Been Processed', with both singles from the album getting airplay on BBC 6 Music.

7:30pm: KILLING EVE killingeve.uk
Queen of Goth, Anne Marie Hurst fronts this recently formed band, you will know her vocals from such classics as Ghost Dance's Grip Of Love as well as Skeletal Family's Promised Land & She Cries Alone, two of her bands from the 1980s. Former bassist of both The Mission & All About Eve, Andy Cousin formed the band with Anne Marie this year and have been playing up and down the country, this event marks a return to Whitby for band members so don't miss their new set of material.

9pm: THE SISTERS OF MURPHY (a tribute to Eldritch & Co., some say even better!) thesistersofmurphy.com
Back in 1993 a Ginger haired Guitar God visited Colorado USA. Whilst there he was thinking of his girlfriend back home in Blighty, a Sisters fan, and as a result purchased Floodland and Vision Thing from the local mall. About one year and one girlfriend later Ginger visits Huddersfield and witnesses an excellent gig by a band called Sister Sludge - a Sisters covers band. They were drunk, they were ropey but Ginger was impressed... The rest is history!

11pm - 1am: MUTANT MOVEMENT DJ SET
Old School Goth, Punk, New Wave, Retro Alternative & Post Punk floorfillers.
_____________________________________________________________


Sunday 27/10 4pm: DOORS OPEN (Sun sets at 4:38pm)

4:30pm: EXPELAIRES expelaires.bandcamp.com
First formed in 1978, this Leeds based bands nucleus consisted of Craig Adams, David Wolfenden (later of Red Lorry Yellow Lorry and The Mission) and Grape, later of 3,000 Revs and Groovin' With Lucy). After supports to Echo & The Bunnymen and the The Teardrop Explodes they signed a one single deal for "about £400" with Zoo Records. Reformed in 2012 with slightly different line up. 2014 saw the release of the 1st recordings in over 30 years with the E.P "Sick Of Lies" and they released their debut album "Feedom" in 2016 which received 9/10 in Vive Le Rock Magazine and 10/10 from Louderthanwar.com!

6pm: SHADOWPLAY (The Definitive Joy Division Tribute) soundcloud.com/jdshadowplay
A powerful sound and look uncannily similar to that of the original band. Their performance is the closest to a Joy Division show available anywhere. 24 Hour Party People, Control and the 2016 play; New Dawn Fades. Seen them all? Now, enter Shadowplay, an eerily accurate live portrayal of the real thing. They played Leeds last year and people have been asking to have them back ever since, it will feel like you have been transported back to 1979.

7:30pm - 9pm (or later if people stay): MUTANT MOVEMENT DJ SET
Old School Goth, Punk, New Wave, Retro Alternative & Post Punk floorfillers.
_____________________________________________________________


PLEASE READ THE FOLLOWING, REGARDING TICKET PRICES PLUS TERMS & CONDITIONS:-

WEEKEND TICKETS ARE PRICED AT £35, SUBJECT TO BOOKING FEE. These are available online at www.seetickets.com or at Crash Records & Jumbo Records.

THIS IS THE SAME PRICE AS IF YOU BOUGHT SINGLE NIGHT TICKETS FOR FRIDAY & SATURDAY OR SATURDAY & SUNDAY SO IF YOU PLAN TO COME TO MORE THAN ONE NIGHT, YOU ARE ADVISED TO BUY A WEEKEND TICKET IN CASE ONE NIGHT ATTRACTS MORE INTEREST THAN OTHERS, RESULTING IN VERY FEW TICKETS RELEASED FOR A PARTICULAR NIGHT.

You can buy tickets locally with no booking fees at The Met Lounge & Ballroom and Pandemonium, Whitby or at any Mutant Movement event from Gary Woodhouse.

Should there be space for door payers on the night, once it can be established whether there are any no shows from ticket holders, it may be possible to allow a few to pay on the door but this will be once the bands have started playing so please buy tickets if you wish to see the whole show. Prices would be as follows, subject to availability:- Friday £18, Saturday £27, Sunday £18