N.O.A.H Tickets
The Fiddler, London.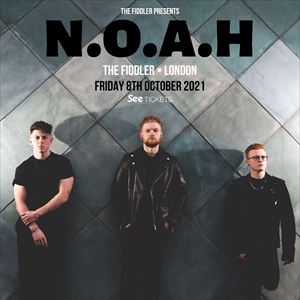 • The Fiddler Presents: N.O.A.H •

229 Kilburn High Rd.

London

NW6 7JG

Nearest tube: Kilburn Station
Bus': 16, 32, 189, 316, 332, 632
info@thefiddlerlive.com
More information about N.O.A.H tickets
N.O.A.H is comprised of three lifelong friends, Ryan Hill,Adam Rooney and Ronan Hynes. The band was formed in January 2020, after the band decided to reform a previous musical endeavour. The band have taken inspiration in its naming, from the biblical story of 'Noah and the Ark', which is centralised around the theme of new beginnings. This idea is fundamental to the band's vision and core values.
'Their debut single is sure to cement them as an exciting up-and-coming act.' Hot Press
'A big vibrant indie sound emanates from N.O.A.H's Shine.' The Last Mixtape
'If this is a taster of what this fresh starting trio is capable of then Bono should step aside and give the torch to this new generation.'Turn Up the Volume