Nathan Carter Tickets
Royal Hippodrome Theatre, East Sussex.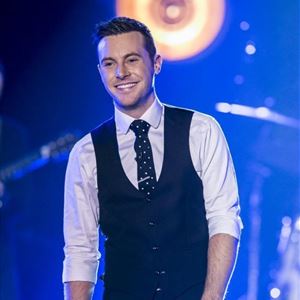 More information about Nathan Carter tickets
Nathan Carter is a sensation! In Ireland he outsold One Direction, Pharrell Williams and Michael Buble, and became the first country act to reach number one in the Irish charts in 2013 after Garth Brooks, six years before.
He is an exciting feature on the UK Country scene, and once again tops the Irish charts with his fifth album 'Where I Wanna Be' which features his unique blend of Celtic, country and pop! Not bad for the cherubic former head choir boy who sang for Pope John Paul ll in Rome.
Nathan was born on 28th May 1990, growing up in Liverpool. His family originate from Newry in County Down.He soon leaned to play the accordion and trips to Ireland to compete in Fleadh Ceoil's became a regular feature of young Nathan's life, and by the age of 12 he won All Ireland medals for singing, and the accordion. Nathan soon became a member of the Liverpool Ceili band, playing accordion and piano, and solo performances soon followed in Liverpool and Ireland.
On a trip to Donegal in 2009, Nathan was appearing in concert in Buncrana, where he met with songwriter John Farry. So impressed was Farry that representation soon followed and the rest, as they say, is history.
Nathan's recordings include WHERE I WANNA BE (no. 1), BEAUTIFUL LIFE (no. 1), 'STAYIN' UP ALL NIGHT' which topped the Irish chart and reached the top 20 in the UK. THE WAY THAT YOU LOVE ME, TIME OF MY LIFE, THE LIVE SHOW, Audio CD & DVD. WAGON WHEEL CD, which saw him sign with Decca Records. The video single to 'Wagon Wheel', has generated more than a million hits on YouTube.
His television appearances include Lorraine, ITV; Sky News, `The Late Late Show', RTE; BBC The Nolan Show' `UTV LIVE', TG4s `GLOR TIRE`, `OPRY AN IUR`, and recently a cameo appearance in the popular Irish Soap ROS NA RUN on TG4 Television.
His self titled 5 episode show saw him perform with KT Tunstall, Finbar Fury, Paddy Casey, Mary Black, The Shires and Billy Ocean to an audience in excess of 2.5 million viewers.