Nick Heyward - Acoustic Duo Show
The Flowerpot, Derby.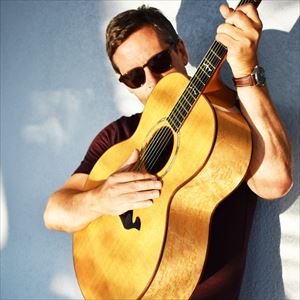 This event is for over 18s only - No refunds will be issued for under 18s.
More information about Nick Heyward - Acoustic Duo Show tickets
Following the success of his most recent album, Woodland Echoes, and tours of the UK and Japan, singer-songwriter Nick Heyward returns in April 2019 with a series of intimate acoustic dates around the UK.
Audiences will be treated to hits from across his entire career from Haircut 100 to today, such as 'Favourite Shirts (Boy Meets Girl)', 'Love Plus One', 'Fantastic Day', 'Kite' and 'Whistle Down the Wind'. Peppered in the set will be album tracks, b-sides and maybe even a teaser from his next album.
Nick Heyward was born in Beckenham, Kent, on May 20th 1961. On leaving Kelsey Park School in 1977, he went to work as a commercial artist, but he had dreams of becoming a pop star. "I got into music because my girlfriend chucked me and because of Paul McCartney's beard when he sung in 'Let It Be'," Nick told Paul Gorman in Music Week in 1995. And soon, Heyward and his friends were ditching names such as Boat Party and Captain Pennyworth left, right and centre and became Haircut 100.
They played the pop game perfectly, tucking their Aran jumpers into their trousers, riding the post-new romantic funk wave, marrying Chic with the Monkees and opening their shows with a blistering cover of Low Rider by War. Haircut 100 burnt briefly and brightly – the ultimate group of pals who, within a year, had hit the big time – their debut, Pelican West, peaked at No. 2 in the UK album charts, No. 31 in the Billboard 200 and was Certified Platinum by the BPI. The album featured three Top 10 singles "Love Plus One", "Favourite Shirts (Boy Meets Girl)", and "Fantastic Day".
The band finished as quickly as it began; parting ways after their debut and Nick's first solo album, North of a Miracle, was released soon after in September 1983. The album set out his stall; a production masterpiece by The Beatles engineer Geoff Emerick (XTC had initially wanted to produce Heyward), it contained heavyweight session players; Uncut were to say retrospectively that "If Elvis Costello had released this album, it might just feature in the lower reaches of those lists of all-time greats." It featured hit singles "Whistle Down the Wind" (featured in the John Hughes classic film "Sixteen Candles"), "Blue Hat for a Blue Day", "On a Sunday" and "Take That Situation".
Nick's career continued through the next decade and a half – supporting Wham! at Wembley at their farewell shows; releasing more hit singles like "Warning Sign" and "Laura", shaving his moustache off on live TV; releasing more hit records, of which his first two of the nineties From Monday To Sunday and Tangled chimed with Britpop, featuring hit pop singles "Kite", "Caravan", "The World", and "Rollerblade".
He played the record company game across the years – and he has great experience of major labels and sizeable Indies; Arista, Warner and Sony have all sought him out; when Alan McGee was flush with Oasis cash in the late 90s and wanted to sign his personal favourites, Nick Heyward was at the top of that list, and 1998's The Apple Bed was released by the iconic Creation Records and featured singles "Today", "The Man You Used to Be" and "Stars in her Eyes".
"Up until the Creation time it used to really matter that you were not around – now it doesn't seem to matter if you haven't been around for one year or 20 years; you can pick up where you left off. It's the way that music has turned out – there was a time when people cared about disappearance, but now there isn't; it's not an issue anymore."
The democratisation of music through streaming services means that people can graze tunes because they like them, or like the name of the artist, without worrying what the music press says – today it boils down to 'do I like this record or not'? And with his latest album, Woodland Echoes, there is so much to love. "This feels to me like the first part of a solo career," Nick says. "I don't really see it as 'solo'; I just make music, that's what it is. When you're a writer, that's what you do, you don't see yourself as a 'solo' writer. This is the first time in years I feel confident and I believe in myself. It's a treat to have Nick Heyward back making premium pop music.