NINE BELOW ZERO + DR. FEELGOOD Tickets
The Assembly, Leamington Spa.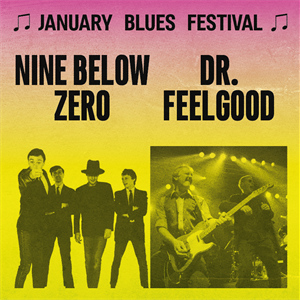 More information about NINE BELOW ZERO + DR. FEELGOOD tickets
January Blues Festival presents
NINE BELOW ZERO + DR. FEELGOOD

British Rhythm 'n' Blues Group Nine Below Zero formed in 1979 and named themselves after the famous Sonny Boy Williamson song.

In 1980, they signed to A&M Records and released the seminal Live at the Marqueealbum. The following year their first studio album Don't Point Your Finger was released and the band supported both The Kinks & The Who. They were the first band to appear on BBC1's The Young Ones TV show performing arguably their most recognisable songEleven Plus Eleven in 1982 before releasing arguably their finest album Third Degree.

Dennis Greaves left to form The Truth shortly afterwards and the band re-formed in 1990 for a sell out 10th Anniversary Concert at the Town & Country Club in London. Since then, Nine Below Zero, have released 20 more albums with 2019's critically acclaimed Avalanche being the most recent.

Dennis Greaves – Vocals/Guitar
Mark Feltham – Harmonica/Vocals
Ben Willis – Bass
Sonny Greaves – Drums
Tom Monks– Keyboards
Charlie Austen – Vocals



Formed on Canvey Island in Essex in the early 1970's Dr. Feelgood have become one of the most popular live rhythm and blues acts in the world.

Dr. Feelgood have enjoyed a string of hit singles in many countries including Milk & Alcohol, Down at the Doctors, Roxette, She's a Wind Up and See You Later Alligator.

The last album to feature Lee Brilleaux, Down at the Doctors, was recorded live on Canvey Island at the band's own music bar just two months before he died. Lee's final wish was for the band to carry on and so it was decided to continue. The current line-up of the band is led by their drummer Kevin Morris, and features Gordon Russell on lead guitar, Phil Mitchell on bass and charismatic vocalist, Robert Kane.