Norah Jones - Cooljazz 2023 Tickets
Hipódromo Manuel Possolo, Cascais.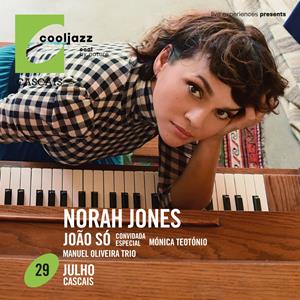 COOLJAZZ HAS 3 CONCERTS PER NIGHT.

MANUEL OLIVEIRA TRIO - 20H
JOÃO SÓ - 21H
NORAH JONES - 22H15
Come early and enjoy having dinner at Cool Pick & Go.

For Reduced Mobility tickets, please contact ticketing@liveexperiences.pt

For Boxes Tickets, please proceed to the second tab

Age rating, over 6 years old upon purchase of a ticket.
This event is for 6 and over - No refunds will be issued for under 6s.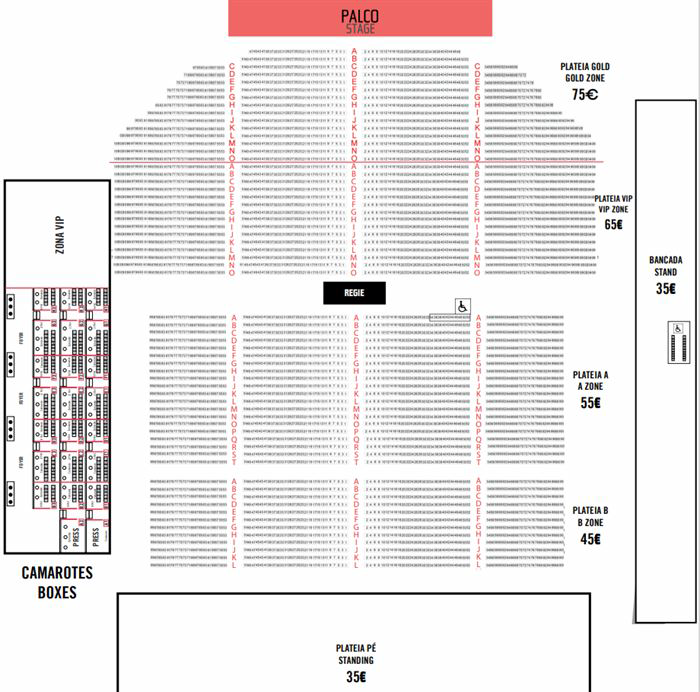 Where we provide a seating plan for events, every effort is made to show you correct information. Ho...
More information about Norah Jones - Cooljazz 2023 tickets
18TH EDITION COOLJAZZ 2023
NORAH JONES | JOÃO SÓ JULY 29th - Hipódromo Manuel Possolo | Cascais
Doors open – 19h00
Cascais Jazz Sessions by Smooth Fm– 20h00
First Concert Main Stage- to be announce
Headliner Concert Main Stage - to be announce
The multi-award-winning jazz artist is confirmed for the 18th edition of COOLJAZZ. Owner of a unique voice, Norah Jones is one of the most relevant artists of her generation, transforming her into a global phenomenon. On July 29th 2023, the artist takes the stage at COOLJAZZ, at Hipódromo Manuel Possolo, for a concert with her own signature, revisiting the successes of her career. COOLJAZZ receives the artist João Só (July 29th), on the same day as Norah Jones. With a career spanning over 10 years, João Só is performing at the festival for the first time, guaranteeing a concert true his career journey.
Always navigating between jazz, country, folk and soul, Norah Jones creates albums that mark us for their subtle complexity. The Fall (2009), Little Broken Hearts (2012), Day Breaks (2016), Pick Me Up Off The Floor (2020), the live album 'Til We Meet Again (2021) and their first Christmas album I Dream Of Christmas (2021), are some of the several albums that she has edited in the last decade and that have been calmed by critics. Iconic songs like "Dont Know Why", "Come Away With Me", "Sunrise", "Turn On Me", "Those Sweet Words", have over 1 billion streams on Spotifiy. Over her 20-year career – her first release dates from 2002 with the album "Come Away With Me" -, Jones has won nine Grammys throughout her career and also has a parallel career as an actress.
Author of songs such as "Sorte Grande", "Não Sou Eu" or "Maldita Hora", João Só debuts at COOLJAZZ next July. Influenced by the Beatles, GNR, Oasis, Clã, Sérgio Godinho, Rui Veloso, Elvis Costello and Jorge Palma, João Só started composing at 15. In 2023, he edited the new song "O teu refrão" and in 2022, the EP "e not only". João Só has a discography that was born in 2009, with his first album "João Só e Abandonados", followed by "Coração no Chão" in 2013, "Até Que A Morte Nos Separe" in 2015, "O Bom Rebelde" in 2018 and, in 2021, "Nada é Pequeno No Amor". Throughout his career, he has collaborated with national artists such as Miguel Araújo, Lúcia Moniz, Teresinha Landeiro, Ana Bacalhau, among others.
COOLJAZZ has 3 concerts per night.
It starts at 8 pm with the Cascais Jazz Sessions, then the First Concert on the main stage and ends with the Grand Concert on the main stage, at times yet to be defined. Closer to the date, check the festival schedule at https://www.cooljazz.pt/cartaz.html
NEW CONFIRMATIONS COMING SOON
NORAH JONES
Facebook | Instagram | Spotify | Youtube

Vídeo - https://www.youtube.com/user/norahjonesVEVO/videos
JOÃO SÓ
Facebook | Instagram | Spotify | Youtube
Vídeo - https://www.youtube.com/watch?v=Lj08ruTRADI


More information and gallery - cooljazz.pt
Facebook: facebook.com/cooljazzfestival
Spotify: cooljazzfestival
Instagram: instagram.com/cooljazzfestival
TikTok: tiktok.com/@cooljazzfestival
Youtube: youtube.com/c/cooljazzfestival
Promoter
Live Experiences | (+351) 211 972 102 | info@liveexperiences.pt