North Music Festival 2021 Tickets
Alfândega do Porto, Porto.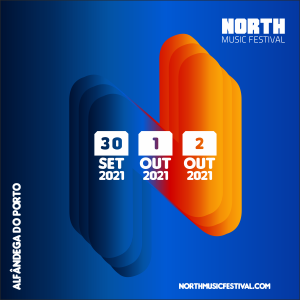 This event is for 6 and over - No refunds will be issued for under 6s.
More information about North Music Festival 2021 tickets
"O North Music Festival (NMF) anuncia as novas datas para 2021.
Numa edição inédita de três dias, o festival vai regressar à Alfândega do Porto, entre os dias 30 de setembro e 2 outubro, tendo assegurado a confirmação dos cabeças-de-cartaz internacionais já anunciados no ano passado. Deftones, One Republic, The Waterboys e The Script são as bandas já garantidas para o alinhamento deste ano, às quais se vão juntar novos nomes a anunciar em breve.

O bilhete diário tem o valor de 53,50 euros e o passe geral terá uma pré-venda limitada no valor de 96,30 euros. Para o público que adquiriu os bilhetes no ano passado, e no seguimento do que já foi indicado, os mesmos mantêm-se válidos para as novas datas agora anunciadas, tendo em conta o alinhamento do cartaz. Já os detentores dos passes gerais (de dois dias no ano passado) têm um upgrade automático, passando a ter acesso aos três dias da nova edição, sem qualquer custo adicional."

PROMOTOR: VIBES & BEATS