Old Red Eyes (The Southmartins Acoustic)
The Castle and Falcon, Birmingham.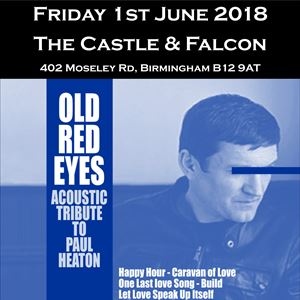 14s - 18s must be accompanied by an adult. No refunds will be given for incorrectly booked tickets.
After you buy, click Split It With PayPal

to easily split ticket money with friends.
More information about Old Red Eyes (The Southmartins Acoustic) tickets
OLD RED EYES – Acoustic tribute to The Housemartins, The Beautiful South and Paul Heaton
Featuring the lead singer of the highly acclaimed Beautiful South and Housemartins tribute act, the Southmartins, Old Red Eyes is an acoustic show celebrating the songs and sound of Paul Heaton - one of the UKs most successful songwriters of the past 30+ years.
With a voice uncannily like the man himself and with soulful, energetic arrangements of classic hits such as Happy Hour, Perfect 10, Good As Gold (Stupid as Mud), I'll Sail this Ship Alone, Caravan of Love and many more, Andy has created a unique take on this bulletproof back-catalogue. Having performed not only across the UK at increasingly larger venues with The Southmartins but also a number of times at Paul Heaton's pub in Salford, (The Kings Arms) the ultimate endorsement.
www.soundcloud.com/oldredeyes/sets/the-hits
Support comes courtesy of Jack the Biscuit, an acoustic Birmingham singer/songwriter band with soulful/indie/folk based tunes. Performing only original material writen by them.
They bring a refreshing, unique & stylish sound with well constructed melodious
Old Red Eyes – Lyrics
Old Red eyes is back
Red from the night before the night before
Walked into the wrong bar walked into a door
Old Red's in town
And sitting late at night he doesn't make a sound
Just adding to the wrinkles on his deathly frown
They're only red from all the tears that I should've shed
They're only red from all the women that I could've wed
So when you look into these eyes I hope you realize
They could never be blue
They could never be blue
They could never be blue
They could never be blue
Listen up Old Red
You never listened to a word the doctor said
He told you if you drank another you'd be dead
Old Red Eyes is back
His shoulders ache all over and his brain is sore
He pours a drink and listens to his body thaw
They're only red from all the thoughts unused inside my head
They're only red from all the things I could have done instead
So when you look into these eyes I hope you realize
They could never be blue
They could never be blue
They could never be blue
They could never be blue
Blue is a street without an end
Red is the color of my hell
Blue is a greeting from a friend
Red is the color of farewell
Old Red he died
And every single landlord in the district cried
An empty bottle of whiskey laying by his side
A lazy little tear running from each eye
They could never be blue
They could never be blue
They could never be blue
They could never be blue