Organ Concert In The St. Stephens Basilica
Szent Istvßn Bazilika, Budapest.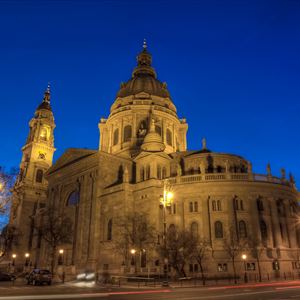 More information about Organ Concert In The St. Stephens Basilica tickets
The St. Stephen's Basilica is one of the most beautiful neo-classical buildings of Budapest. This is the most important church in Hungary, one of the most significant tourist attractions and the third highest building in our country. The construction started in 1851, according to the plans of Miklós Ybl, and was completed by József Kauser in 1905. In the next 50 years the church suffered from wars, storms and earthquakes. The church was reconstructed 1983-2003.
The solo pieces are performed by Kolos Kováts accompanied by the organ. The flute pieces are performed by Eleonóra Krusic accompanied by the organ.
The concert starts at 20:00, and takes about 70 minutes, without intermission.
TIP!
You can book your ticket with Dinner & Cruise after cruise including a 1.5 hour long cruise and buffet dinner OR a unique Wine tasting with the best 7 Hungarian wine to taste from.
Sample Program
Wolfgang Amadeus Mozart (1756-1791): Fantasie in F minor K 506
Alessandro Stradella (1639-1682): Pietà Signore
Tomaso Albinoni (1671-1751): Adagio
Liszt Ferenc (1811-1886) - Camille Saint-Sa?ns (1835-1921): Legend in A major (St. Francis of Assisi's Sermon to the Birds)
Giuseppe Verdi (1813-1901): Prayer of Fiesco from opera Simone Boccanegra
Johann Sebastian Bach (1685-1750): Polonaise, Minuet and Badinerie from Suite in B minor BWV 1067
Johann Sebastian Bach: Toccata and Fugue in D minor BWV 565