Panopticon + Winterfylleth - "AUTUMN EQUINOX" Tour
TBC, Nottingham.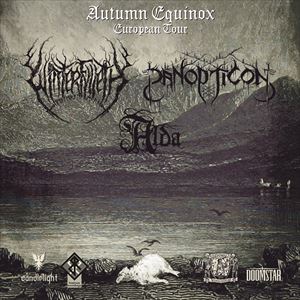 Venue TBC due to Covid-19.
All tickets will be refundable per the Terms & Conditions of See Tickets, or usable in the event of a pontponement.
More information about Panopticon + Winterfylleth - "AUTUMN EQUINOX" Tour tickets
fyrelight promotions in association with Doomstar Bookings, present a UK Exclusive:
Panopticon + Winterfylleth - the "AUTUMN EQUINOX" European Tour 2020. + Special Guests Alda

Panopticon - UK Debut & Exclusive 2020 show:
Panopticon is an atmospheric metal band that blends elements of black metal, dark metal and melodic death metal with American folk music, post rock and progressive rock elements.
Influences range from 90's black metal bands and melodic death metal, to post rock and indie rock, to early folk, bluegrass and country music.
Panopticon are signed to bindrune records (US) and distributed in Europe by Norvis Productions.
Winterfylleth (co-headliners)
Passionate, anthemic black metal inspired by the history, heritage and landscapes of England.
Formed in 2006, Winterfylleth have released multiple full-length albums since their debut full-length release "The Ghost of Heritage (2008, re-released in 2012 by Candlelight Records) and received the Metal Hammer Magazine Golden Gods 'Best Underground Band' award in 2015.
Winterfylleth are currently signed to Candlelight/Spinefarm Records.
Panopticon: https://open.spotify.com/artist/2Mz5qpR3WxbcBwZBsmraWE?si=Yu9xF7UbQdOeem1HMAIx4Q
Winterfylleth: https://open.spotify.com/artist/0cKyWvYnOGpPV2NpulEYf5?si=of2Mwxr4R-Civ7fEvh05Zw
Alda: https://open.spotify.com/artist/48004mQqn10lHqgCJDczTi?si=eHu1SliATlG-6c3tVaFjog
Panopticon: https://thetruepanopticon.bandcamp.com/
Winterfylleth: https://winterfylleth.bandcamp.com/
Alda: https://alda-band.bandcamp.com/
Panopticon: https://www.facebook.com/TheTruePanopticon/
Winterfylleth: https://www.facebook.com/Winterfylleth/
Alda: https://www.facebook.com/Alda-116289091792839/
Panopticon: https://www.instagram.com/thetruepanopticon/
Winterfylleth: https://www.instagram.com/winterfyllethband/