PaSSion: The Peoples ClaSSics 2019
Emporium, Coalville, Leics.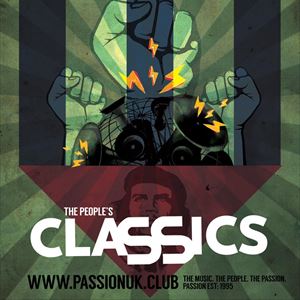 This event is for over 18s only - No refunds will be issued for under 18s.
More information about PaSSion: The Peoples ClaSSics 2019 tickets
The Peoples Passion ClaSSics: Jan 5th 2019.
This time its OLD SKOOL
You spoke, we listened… it's time to go back, way back to the OLD SKOOL.
Arena 1.
Trance ClaSSics
JFK (4 Hour Set) B2B with Marcella Woods LIVE
(Singing your favourite PaSSion ClaSSics LIVE on STAGE throughout JFK's set.)
Marc West
Beaumont & Round
Arena 2
RedRoom SeSSions OLD SKOOL ClaSSics
Brandon Block
Alex P
Stretch & Vern
Nick Correlli
TT
Josh Roome
Room 3
NuPaSSion ClaSSics
BIG CMV
Von Spicer Vs Daz Aitken
Chris Loines
Fraser Hynds
Paul Welford
S.W.A.P
Earlier this year we created a poll asking for your opinion on future events, you spoke we listened.
Passion proudly presents: The Return of The OLD SKOOL.
Brandon Block & Alex P were part of the early fabric of Passion nights back pre millennium. Playing at least once a month each, their antics behind the booth and outstanding party sets were synonymous with the early success of the brand.
Who can forget the infamous 'optics behind the booth night' where JFK and the Passion team (for some reason unknown to man) thought it was a good idea to install a set of optics behind the main room DJ booth, stocked up with around six bottles of spirits, the night ended up in carnage with everyone unable to stand by the end of the evening! We can't wait to see their dancefloor devastation in 2019.
Stretch & Vern
These guys were massively popular with the DFOPs back in the early days, their hug hit 'Im Alive' is still one of the most asked for tracks on Classics events, and these party animals are busting a gut to show you how they can still rock the place.
JFK B2B Marcella Woods (LIVE) EXCLUSIVE!
Never been done before, this is the first time JFK has gone back to back with a singer LIVE throughout his set.
Marcella Woods is the voice behind many of your favourite Passion anthems, she will not be singing on every track but will be singing throughout JFK's 4 hour set LIVE on stage. An amazing opportunity to have the perfect crowd/artist participation. The Atmosphere will be off the scale. NOT TO BE MISSED!
THE DFOP's
We can do all of these things to give you the best experience possible but It's the people that make Passion, the DFOP's are the most loyal clubbers in the UK.
It's that unashamed outpouring of love and affection which creates that amazing atmosphere, and we cant thank you enough for all your love and support over the years.
This truly is your event, chosen by you!
The Peoples PaSSion ClaSSics: This time its OLD SKOOL
The Music. The People. The Passion.
Saturday January 5th 2019
9pm till 430am.
Tickets on sale now:
Please like and share.