Pave The Jungle Tickets
Little Buildings, Newcastle Upon Tyne.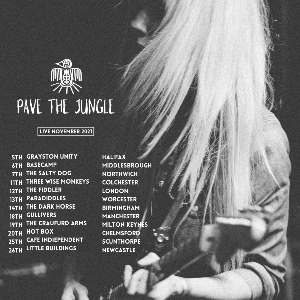 More information about Pave The Jungle tickets
Entrenched around guitarist/singer Rachael Whittle's swaggering, off-kilter yet decidedly arena-sized compositions, Pave The Jungle formed in the English city of Newcastle in early 2019.
With the addition of long-term collaborator Scott Jeffery (drums) the duo was completed by May of that year.
Over the ensuing summer, the pair bounced between rehearsals and nearby Blank Studios (Pigsx7, Richard Dawson, Du Blonde); and by years-end were in possession of a blistering 6-track mission statement in 'The Hissing' EP.
Predictably, momentum stalled with the ushering in of the first UK Covid-19 lockdown. And just days after a feverishly well-received opening slot for Texan alt rock heavyweights '...And You Will Know Us By The Trail Of Dead' - only the band's third live appearance.
Despite the pandemic grounding live efforts, plans to deliver 'The Hissing' in late 2020 remained unchanged. Upon release in October, the EP was met with positive reviews from a wide scope of press & radio. Early adopters of the band include DIY, Punktastic, VISIONS (DE), Amazing Radio, Total Rock Radio & BBC Introducing; the latter playlisting lead track 'Emerald' for regular cross-schedule play on BBC Radio Newcastle
A follow-up arrived in the shape of self-produced, standalone single 'All You Know' in March '21, and one month later The Hissing received its first physical release via Du Blonde's new label 'Daemon T.V.'..
January 2021 marked Whittle & Jeffery's return to Blank Studios to produce a second EP. With engineer Chris McManus at the helm once again, the EP's four tracks - mixed by Tarek Musa (Spring King, The Big Moon, Calva Louise) - are penned for release this November, allied with 12 UK tour dates:
(November):
5th - The Grayston Unity, Halifax
6th - Base Camp, Middlesbrough
7th - The Salty Dog, Northwich
11th - Three Wise Monkeys, Colchester
12th - The Fiddler, London
13th - Paradiddles Cafe, Worcester
14th - The Dark Horse, Birmingham
18th - Gullivers, Manchester
19th - The Craufurd Arms, Milton Keynes
20th - Hot Box Live, Chelmsford
25th - Cafe Indiependent, Scunthorpe
26th - Little Buildings, Newcastle
"A pop sensibility under layers of expansive guitar. Think The Big Moon going through a Siouxsie phase." - DIY
"A tour de force of post-punk alt. rock intensity flavoured with intellect and wit." - NARC Magazine
"Quite frankly, it's one of the most exciting EPs of the year." - Punktastic
"There is no compromising their power and its dense alternative armour proves beautifully destructive." - Podcart