Personal Trainer Entradas
The Boileroom, Guildford.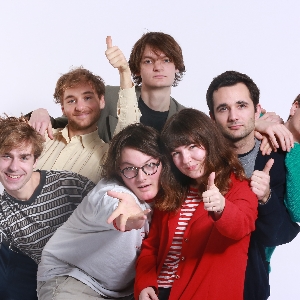 Solamente podrán acceder los mayores de 16 años - No se harán reembolsos para menores de 16 años
Más información sobre las entradas para Personal Trainer
Amsterdam-based collective Personal Trainer seek out sharp-witted ways to prolong the innate joy of being a band just plugging in and playing. Willem Smit, the group's conductor and cheerleader, started the band as an ultimate love letter to the vibrant scene he himself inhabits. Initially, it meant playing shows in impromptu lineups, with individuals of varying skill levels, interests and sensibilities. At the hub of this volatile energy, Smit embraced his role as jester in court, performing his own songs like a lost tourist on a karaoke bender.
This enthusiasm became reciprocal, as bands ranging from Pip Blom, Bull, Home Counties, The Klittens to Global Charming – as well as Smit's other outfits Canshaker Pi and Steve French – frequently rubbed elbows on stage. Personal Trainer-shows became known as rousing rituals, with songs that more or less sounded like all your favorite indie rock luminaries jam-packed into big-beaming pop psalms. One of the band's early career highlights was a 24 hour performance at Amsterdam's legendary pop temple Paradiso.
"An understated and slow burning joy – full of subtlety that you can't help but return to" - So Young Magazine
"Their juxtaposition of bleak verses with an impassioned, hard-hitting rock chorus illustrates the beauty and harshness of our inability to fully understand things" - Paste Magazine