Petrol Bastard + Petrol Hoers Tickets
Santiagos Bar, Leeds.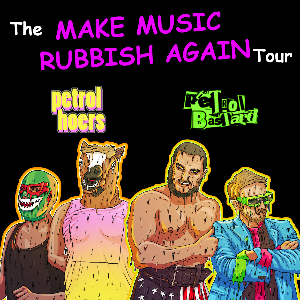 This event is for 18 and over - No refunds will be issued for under 18s.
More information about Petrol Bastard + Petrol Hoers tickets
Petrol Bastard
Petrol Bastard is a 2-piece techno-punk bands- like a terrible Tesco Value version of The Prodigy.
We've supported a lot of respectable acts, including 999, UK Subs, Kunt & The Gang, Goldie Lookin Chain, The Cheeky Girls (bizarrely), Anti Nowhere League, Atari Teenage Riot, Dickies, Killdren, and a load more... We've also recorded songs with bands including Kunt & The Gang and DOA.
The Ducks
The Ducks, a weird, antisocial & aggressive 2 piece, from the gentrified shores of Brighton. The bargain bin soundtrack to broken Britain.
Hot Pink Sewage
Bubbling up from the drains of Blackpool, Hot pink sewage spew their filth all over the stage. Crusty guitars, jackhammer drum machines and drag queen phlegm. Pound land Gwar.
Petrol Hoers
Petrol Hoers is the world's only purveyor of "digital horsecore", a blend of aggressive punk and noisy drum+bass but with a surreal horse flavour. Tom Robinson has described Petrol Hoers as "one of the oddest and most original artists its ever been my pleasure to come across in the last 15 years of bbcintroducing"