Pop Punk Night @ The Brickyard Tickets
The Brickyard, Carlisle.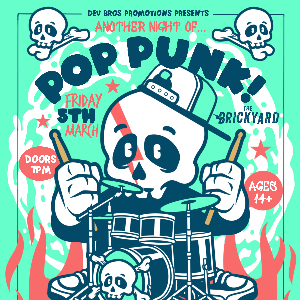 14+ only. 14s to 15s must be accompanied by an adult. No refunds will be given for incorrectly booked tickets.
More information about Pop Punk Night @ The Brickyard tickets
On Saturday 5th March, Dev Bros Promotions proudly presents.... ANOTHER NIGHT OF POP PUNK!
Featuring 6 awesome acts from all across the UK, this will be a nonstop party full of catchy choruses, killer breakdowns and good vibes all night long!
Who's on the Bill?
HOMETRUTHS
Newcastle's Hometruths make their long awaited return to Carlisle after blowing the roof off the building last time round! UK Progressive Pop Punk. It's pop, but not. Hometruths invite you take a journey into the stories of love, loss, and living, taken from their own lives and those of their closest friends. Emotion, narrative, pop and most importantly punk. Sink your teeth in Hometruths heavy features on "Pop Punks Not Dead", "The Punk List" and "New Punk Tracks" official Spotify Playlists. The new single "Shimmers" out now via Lost Music Collective.
Check them out at – https://open.spotify.com/artist/1gFSdRSFZ7W75S9S7CzCEB
WHO SAVES THE HERO?
A fusion of throwback nostalgia and modern pop sensibilities, In a showdown of Old Vs. New, Neither side is pulling punches when it comes to South Wales' Who Saves The Hero's super powered pop punk deliverance. Drawing influence from all eras of pop punk, Who Saves The Hero? are proud to adopt their own style of the popular genre, Whilst favouring a classic throwback sound. Their live show and sound comprise of infectious and energetic hooks infused with sunny guitar work and rhythmic breakdowns accompanied by catchy choruses and plenty of energy, always leaving any fan of the genre wanting more. Who Saves The Hero? have extensively toured mainland UK, playing headline shows and sharing the stage with the likes of fellow Pop Punk heavyweights Kids in Glass Houses, Handguns, Failsafe, Destine, Forever Came Calling, (SPUNGE) and Junior to name just a few, It's the band's hard graft that secured them an invitation to play the San Diego date on the last ever cross country Vans Warped Tour in 2018 along with several other shows on the west coast. Who Saves The Hero? Signed a record deal with Lost Music Collective at the start of 2020 and are ready to show the world what they got!
Check them out at - https://open.spotify.com/artist/1CX7v8V2EEfUbX5bgVFyfp
SHARK BAIT
Shark Bait are a 5 piece pop punk band from South Yorkshire, made up of 5 buddies who smoke week, drink rum and eat pizza. They mix heavy riffs, upbeat hooks, fast tempos and catchy vocal melodies to create pop punk with a bite! Perfect for fans of Four Year Strong, A Day to remember, Neck Deep and The Story So far!
Check them out at - https://open.spotify.com/artist/73P4QkEAOdLZRVfny5jZFt
FROM HERE ON OUT
Carlisle's own From Here On Out need no introduction, following their headline performance at the Brickyard back in October 2019, FHOO have gone on to release their highly rated catchy single Home, as well as gaining festival slots and gigs across Cumbria and the North of England! Returning with their new lead vocalist Liam Teasdale (As Long as We Live), FHOO are looking to push on and show they are a force to be reckoned with on the Pop Punk/Easycore scene in 2021!
Check them out at – https://open.spotify.com/artist/5hUvREisTgghN3XpxE3ZUD
GLASSHEART
West Cumbria's Pop Punk for Dad's played their debut Carlisle show at our last Pop Punk night back in 2019 to an absolute roaring ovation, I don't think anyone knew what to expect from their set, but it was fucking awesome and we couldn't wait to bring these guys back to do it all again!
LUKE MATEAR (ACOUSTIC SET!)
Kicking the night off on Saturday 5th March will be highly rated Cumbrian solo artist Luke Matear who'll be playing a very special acoustic set to get everyone in the singalong and party spirit! The perfect way to get such a stacked night started!