Pop Will Eat Itself
The Craufurd Arms, Milton Keynes.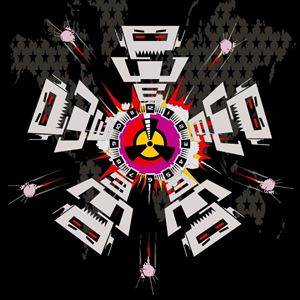 More information about Pop Will Eat Itself tickets
PWEI are; Graham Crabb & Mary Baker on vocals, Rich March on guitar, Adam Mole on keys, Fuzz Townshend on drums & Davey Bennett on bass.

This unique band, whose influence touched the careers of acts such as The Prodigy and Nine Inch Nails, still has a large, strong following worldwide, with an active online community who have shown great interest in the bands work, which continues to this day.

2019 has seen the band in the national media spotlight more than once in stories involving PM Boris Johnson, MP Michael Gove and comic icon Dennis The Menace no less.

In 1987, Pop Will Eat Itself surprised the independent music world by morphing overnight from two minute, three chord indie pop wonders into hip-hop rock crossover pioneers. Years ahead of their time, PWEI produced "Box Frenzy", a furious mix of beatboxes, metal riffs, MC'ing and pop songs. Second album 'This Is The Day, This Is The Hour, This Is This' was hailed as a masterpiece that was years ahead of its time, a smorgasbord of diverse samples, bleak dystopian lyrics and pumping, crashing rhythms that combined in a sprawling, futuristic mini-universe. Two more albums on major labels followed, 'A Cure For Sanity' which took the sampling obcession further, but in a livelier, dancier style and 'The Looks Or The Lifestyle' which added Fuzz Townshend as a live drummer. The band were released from their restrictive major label deal with BMG as it was deemed that PWEI would never have a top 10 record. Their last release 'Get The Girl, Kill The Baddies' went straight into the charts at no.9. The move to Korda Marshall's Infectious label saw the band explore darker, heavier sounds. Trent Reznor, always a fan, signed the band to his Nothing label in the US and a large US tour with Nine Inch Nails and Marilyn Manson followed. The touring took its toll and the band split in 1996.

In July 2011, a new line-up was announced, featuring Graham Crabb (as the only original member), fellow vocalist Mary Byker (Gaye Bykers On Acid, Apollo 440, Pigface), guitarist Tim Muddiman (Gary Numan), drummer Jason Bowld (Pitchshifter, Killing Joke) and bassist Davey Bennett (This Burning Age). In October that year the album, New Noise Designed By A Sadist, was released on Cooking Vinyl, produced by Monti & Rob Holliday (Sulpher, Prodigy) and was followed by a UK tour. The single 'Disguise' was featured as Radio 6 Breakfast Show 'Single of the Week' and an instrumental 'Back To Business' was used on Top Gear. Crabb & Byker guested on Soccer AM. The 'Watch The Bitch Blow' EP was released in March 2014 as part of a

PledgeMusic.com

campaign. An unofficial World Cup single, Funk FIFA followed in May, featuring Brazilian rapper BNegao (Planet Hemp). The band then recorded an 'underground' fan-release only album in 2015 called 'Anti Nasty League'. The track 'Set Sail For Death' was used in the award-winning soundtrack film 'Pin Cushion'. A collection of remixes is due out later this year.

Since 2017/18 original members March, Mole & Townshend have returned to the band on a full-time basis. The band recently toured in Australia and completed a successful 'Love From Stourbridge' tour in the UK sharing the bill with Ned's Atomic Dustbin and Miles Hunt of The Wonderstuff. It has been a remarkable return to form with those gigs almost unanimously described as some of the best the band have ever done. The energy is still there in abundance. The band are currently working on a new album with a view to a 2020 release - with the closest to the original line up so far, since reforming.