Pretty Boy Floyd Tickets
Robin 2, Wolverhampton.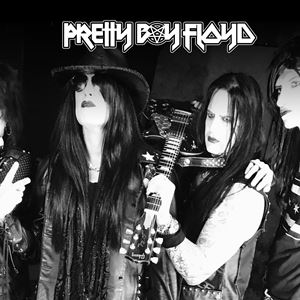 14+ only. 14s to 17s must be accompanied by an adult. No refunds will be given for incorrectly booked tickets.
More information about Pretty Boy Floyd tickets
Pretty Boy Floyd: Starting Out
Formed in Hollywood, California, Pretty Boy Floyd rose out of the ashes of the band Doll when its original singer was replaced by vocalist Steve "Sex" Summers in 1987. The other members of Doll consisted of guitarist Aeriel Stiles, bassist Vinnie Chas and drummer Kari Kane. The band decided to take the name Pretty Boy Floyd from a producer working with them. Before the demo was recorded, guitarist Aeriel Stiles was replaced by Kristy "Krash" Majors. Famously, Pretty Boy Floyd was signed to MCA records after only eight shows together.
Pretty Boy Floyd: Find Success
Pretty Boy Floyd released its first album Leather Boyz with Electric Toyz in 1989. The album peaked at No. 130 on the Billboard Top 200 chart. The band gained a following in Europe because Kerrang! magazine featured Pretty Boy Floyd as a cover story that same year. Leather Boyz with Electric Toyz produced two singles, "Rock and Roll (Is Gonna Set the Night on Fire)" and "I Wanna Be With You," both of which did well on MTV. Pretty Boy Floyd loaned the song "48 Hours" to the Karate Kid, Part III soundtrack in 1989.
Pretty Boy Floyd: Defy the Odds
In 1991, Pretty Boy Floyd went their separate ways. The band members pursued various musical projects. Bassist Vinnie Chas created the band Rattlin' Bones with former guitarist Aeriel Stiles. In 1995, Vocalist Steve Summers along with guitarist Kristy Majors, LA Guns bassist Keff Ratcliffe, guitarist Keri Kelli and drummer Kari Kane recorded Pretty Boy Floyd's first EP A Tale of Sex, Designer Drugs, and the Death of Rock N Roll released on Perris Records. The album featured the songs "Good Girl Gone Bad" and "Junkie Girl."
Pretty Boy Floyd: Keep Momentum
Pretty Boy Floyd released its second album Porn Stars in 1998 on Cleopatra Records. The unique album featured covers of the KISS song "Shout it out Loud" and "Department of Youth" by Alice Cooper. Porn Stars also featured new versions of five songs off of Leather Boyz with Electric Toyz including the late 1980s hit "I Wanna Be With You." Pretty Boy Floyd remained an underground hit with fans.
Pretty Boy Floyd: New Music
Pretty Boy Floyd released its third album Size Really Does Matter on Deadline Records in 2004. The band's lineup consisted of vocalist Steve Summers, guitarist T'Chad, bassist Lesli Sanders and drummer Dish. Size Really Does Matter won positive reviews from the critics at All Music Guide. All Music Guide reviewer Joe Viglione described the lead song "Suicide" off of Size Really Does Matter as having a "Guns N' Roses-meets-Alice Cooper" quality. Size Really Does Matter is the first Pretty Boy Floyd album not to contain any tracks written by former guitarist Aeriel Stiles.
Pretty Boy Floyd: The Future
In 2008, Pretty Boy Floyd reunited the original members for the first time in years much to the praise of fans worldwide. Original members Guitarist Kristy Majors, Vocalist Steve Summers, Drummer Kari Kane played a sold out show the Knitting Room in Los Angeles, California in early 2008 filmed for a DVD release. Pretty Boy Floyd will appear at several festivals this summer including the first ever Rock the Bayou Music Festival held in Houston, Texas during Labor Day weekend 2008 as well as Rocklahoma, the South Texas Rock fest and the Hollywood Music Fest..