Punk Special!
Lending Room, Leeds.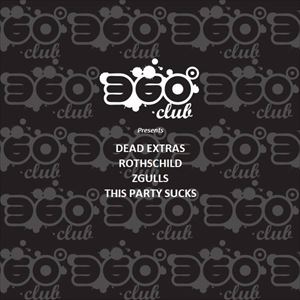 A Punk gig featuring 4 exciting bands from Leeds!
This event is for over 18s only - No refunds will be issued for under 18s.
More information about Punk Special! tickets
Dead Extras
"Their reputation as one of the best Leeds has to offer justly earned" - Roadie Live
"Unearthing Dead Extras is to unearth a gem; you're unlikely to find another band who does what they do to the same degree of skill- and I wouldn't bother trying" - Lippy Magazine
"High energy - Commanding Presence and Sheer Intensity" - When the Horn Blows

https://deadextras.bandcamp.com

A loud, chaotic band from Leeds combining post-hardcore punk, grunge and metal into a cacophony of lightning fast licks, howled vocals and rattling rhythms. A loud, intense and furious hybrid of punk rock. It is the soundtrack to the dumpster fire that is the end of the world.
New single 'Affluenza' out now.
====================
Rothschild
"This is not what you'd listen to as a polite mental refresher, but if you're looking for unadulterated wrath of sorts- this is it" - Roadielive
"Rothschild have provided a refreshingly callous sound to those in need of it." - Lippy Magazine
Formed in May 2018, Rothschild are a three-piece alternative rock band from Leeds consisting of vocalist and guitarist Nathan Morris, bassist Jack Williamson and drummer Danny Jowett.
Described as 'a weapon in the making' by the likes of Roadie Live, they are fast accumulating a fanbase that seems to grow tenfold with every new release, their latest single Halfway House receiving an astounding reception within its first week.
For fans of - Arcane Roots & While She Sleeps
"They're revitalising punk rock back to its former glory, adding elements from garage and stoner rock. It's fuzzy, fierce and full of fury." Skeleton Saloon
"There's not many bands in Leeds that can boast having a stage presence as raucous as Zgulls, they tear their way through a set" –
https://harryhallion.wordpress.com
A rowdy 3 piece Garage-Punk band with stacks of fuzz. Based in the Leeds area.
https://soundcloud.com/user-50679240
A high energy pop-punk band hailing from Leeds.
Fresh off the release of their debut single "Rock Show", in a short time, they have played with the likes of "Such Gold", "Kali Masi", "In Evil Hour" and "Sonic Boom Six" to name a few. If you enjoy infectious vocal melodies, hard hitting - fast drums and riffs that make you want to bounce, be sure to check these guys out