Pynch Tickets
The Hope and Ruin Brighton, Brighton.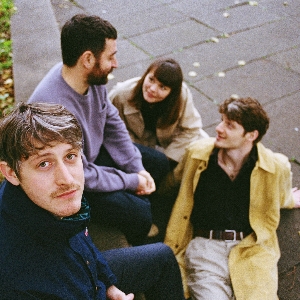 More information about Pynch tickets
Pynch are a true 21st-century DIY band that has built up a dedicated global fanbase from a handful of self-released singles through a combination of tenacity, wistful lo-fi and life-affirming lyricism. On their debut album, Howling at a Concrete Moon, they have followed through on their vision and delivered ten stunning tracks that offer a snapshot of what it is to be young and adrift at this strange junction of history.

To record the album, the band enlisted Stereolab's Andy Ramsay as Co-Producer and Tom Carmichael (Porridge Radio/Matt Maltese) as mixer who both helped to magnify and enhance Spencer's home recordings while preserving their lo-fi aesthetic. The result is Pynch exactly as they were meant to be heard; intimate and introspective yet widescreen and danceable.

Sonically, Pynch serves up a heady concoction of motoric beats (Julianna Hopkins), driving basslines (Scott Enock), soaring guitars (Spencer Enock) and melancholic synths (James Rees) to create a sound that is steeped in indie and electronic history yet still vitally present. In his lyrics, Spencer combines a yearning for meaning with dry observations about pop culture, conspiracies and Mcdonald's; juxtaposing the celestial with every day, to the tune of a slacker Gameboy rhapsody.
Since forming at university, Pynch have played over a hundred shows around the UK and Europe, joined the Libertines on tour, released their debut single on Speedy Wunderground, amassed 2 million streams on a song recorded with just an SM57 and received support from The Guardian, The Telegraph, Paste Magazine, So Young and NME. With Howling at a Concrete Moon, they finally have an LP that captures this journey and delivers their full artistic statement.