Raw Power Festival 2021
The Dome, Tufnell Park, London.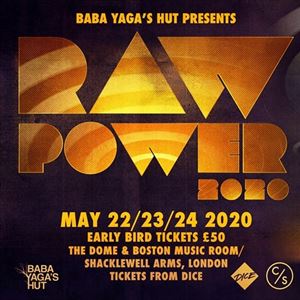 More information about Raw Power Festival 2021 tickets
Baba Yaga's Hut Presents:
Raw Power Festival 2020
May 22nd - Shacklewell Arms
May 23rd & 24th - Dome & Boston Music Room, Tufnell Park
2 Dartmouth Park Hill, Tufnell Park, London, NW5 1HL, United Kingdom

Early Birds Tickets - £54 - SOLD OUT
Weekend Ticket - £65

Chrome Hoof
Scorn
Teeth of the Sea
Sunburned Hand of the Man
Kawabata Grimes
Enablers
Pye Corner Audio
Vodun
Shuck
Human Leather
WaqWaq Kingdom
We Wild Blood
Rattle
Wild Rocket
Grimm Grimm
Sereias
Workin' Man Noise Unit
Dame Area
Isn'tses
Helen Money
Torpor
Cocaine Piss
Petbrick
Colossal Squid
Rainbow Grave



Since the first time it manifested its monstrous assault in the Tufnell Park region back in 2014, Raw Power has earned an international reputation as a righteous psychic celebration of sound and fury - a weekend whose inspirational intensity is as potent as its tinnitus-risking aural abandon. Boasting an annual handpicked selection of innovators, mavericks and maniacs from the wildest, heaviest and most intimidating frontiers of alternative and experimental music, from the legendary to the freshly formed, the last half-decade has seen global iconoclastic forces from Faust to Melt-Banana, from Circle to The Ex, and from Godflesh to Gallon Drunk unite to radiate revelation in abundance.

2020 already sees an intimidating array of talent confirmed for what's set to be one of the most riotous affairs yet - Raw Power is delighted to welcome one of the world's ultimate party bands Chrome Hoof - the ritualistic troupe who inhabit a mindscape whereby Studio 54 exists on Mars - to the fray for their first one-off show in countless years, a cranial-collapsar to celebrate their 20th Anniversary. What's more, the trailblazing and reliably unclassificable psychedelic free-improv-out-rock vortex-voyagers Sunburned Hand Of The Man will be making their first UK appearance for the best part of a decade. Showcasing perhaps the most diverse first announcement yet for the fest, the VHS-abusing soundscapes of Pye Corner Audio, the noir-tinged narratives of Enablers, emotive intensity from Helen Money, mighty riffage from Shuck and Torpor, coruscating noiserock from Grey Hairs, Human Leather and We Wild Blood, electronic brinksmansip from Isn'tses, potently percussive tumult from Rattle, and tribal bass from the German-based Japanese trio Waq Waq Kingdom will be joining the fray.

Simultaneously flying the flag and destroying tbe paradigms for heavy and experimental music as we enter a new decade, Raw Power is set to fry brains and re-align perspectives once again. Dance, indeed, to the beat of the livin' dead.