ROBIN BIBI & THE BLACKJACK HORNS Tickets
Eel Pie Club, Twickenham.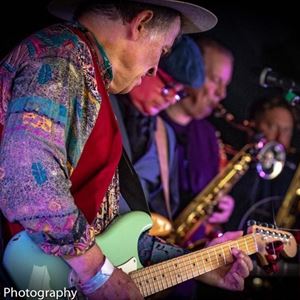 More information about ROBIN BIBI & THE BLACKJACK HORNS tickets
Robin Bibi can only be described as a true "Legend" in his own right. With a stellar CV which includes playing with such legendary artists as the Pretty Things , Robert Plant , Jimmy Page and Ben E. King to name just a few . This gig will be recorded so this is your chance to be part of Robin's forthcoming CD - Live at The Eel Pie Club!
When he is on stage....and off....he just has a crowd eating out the palms of his hands....or should it be hanging on to every riff he plays!. One of the great musicians we are blessed to see perform all around the UK and Europe.. Robin is also well know to the Eel Pie Club audience as a member of the EEL PIE ALLSTARS.. We now have the extra bonus of Robin performing with his horn section consisting of trumpet and two saxes. The addition of the Horns really beefs up the sound. The Horn players are some of the finest players in the UK having worked with legends such as Jamiroquai, Eric Clapton, Mark Knopfler, David Gilmore, Gloria Gaynor, Bruno Mars, Beverley Knight etc etc. Robin has worked with ace trumpeter Jack Birchwood to come up with exciting horn arrangements for the whole set. The horns feature on the album "No More A Secret".