Rock Rampage Metallica Paramore Tool Tribute Bands Tickets
Georgian Theatre, Stockton-On-Tees.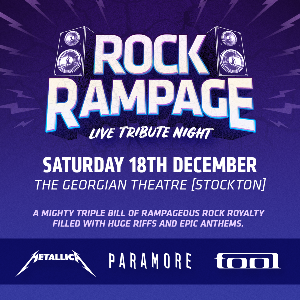 Anyone under the age of 16 can purchase a ticket and be admitted to events as long as they are accompanied by a responsible adult. People aged 16+ should bring ID if they want to enter an event unaccompanied. 18+ ID is required at the bar. We strongly advise that parents think carefully about bringing very small children – in particular when exposing them to loud music without appropriate ear defenders.
Under 18s must be accompanied by an adult. We cannot issue refunds to under 18s who are not accompanied by an adult.
Meer informatie over Rock Rampage Metallica Paramore Tool Tribute Bands tickets
Rock Rampage is the ultimate rock party event - a celebration of the world's biggest rock bands, a night filled with huge riffs and epic anthems. A perfect Xmas night out!
Previous events have sold out so book soon to avoid missing out. Featuring the best live tribute acts that replicate the sound and energetic stage shows of your fave rock kingpins....
METALLICA
Local Hero's Damaged Inc serve up every rifftastic Metallica song you'd want to hear. A homegrown treasure - and absolutely the greatest Metallica tribute in the world!
PARAMORE
Paramore GB unleash all the anthems for Paramore's epic career spanning 5 albums!
TOOL
Tool Shed are the UK's premier tribute to the progressive rock titans. Unmissable atmosphere, experimentation, musicianship and intensity!
Plus... DJs & Dancing til Late