Royal Pavilion Ice Rink - Family Gift Tickets
Royal Pavilion Ice Rink, Brighton.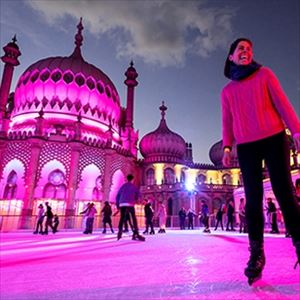 Key
Wheelchair Accessible
Standard Session
More information about Royal Pavilion Ice Rink - Family Gift Tickets tickets
Royal Pavilion Ice Rink Multitickets
Want to become a better skater this season? Try our great value multitickets with unlimited weekday skating excluding Christmas period (18/12/19 - 5/1/20 inc)
Multitickets - SOLD OUT
Treat your loved ones to an ice skating Gift Voucher this Christmas
Choose from one of our Multitickets*, family tickets or a pair of full price skating tickets
Multitickets - SOLD OUT
Family Tickets
Full Price (12+) Tickets
*Multitickets are valid for unlimited weekday skating excluding Christmas Period (18/12/19 - 5/1/2020)
Wheelchair users
The Royal Pavilion Ice Rink is accessible to wheelchair users. All exits and entrances are ramped, viewing areas and cafe are accessible and a disabled toilet is available. Wheelchair users' accessible skating sessions: 10am - 11am every day except 12th Dec, 15th Dec, 23rd Dec, Christmas Eve (24th Dec 2019) and New Year's Eve (31st Dec 2019). Please note that wheelchair users must be accompanied on the ice by a competent skater who may skate for free. Marshals will be on-hand if necessary. Electric wheelchairs are permitted but must be switched to manual setting whilst on the ice.
Children Under 12
Children under 12 must be accompanied by an adult (aged 18 or over) to the venue. Children under 8 must have an adult (aged 18 or over) with them on the ice.
Under 5's
Under 5's may skate for free during all
off-peak sessions
, as long as they are accompanied by a paying adult.
Only 1 child under 5 may skate for free PER paying adult. Tickets for any additional children will be charged at the standard rate for that session.
Under 5's must pay the Junior rate during peak times.Tickets for the Royal Pavilion Ice Rink
To book online please click here or to book by telephone please call 0844 858 6753 (Calls to 0844 numbers cost 7p per minute plus your phone company's access charge).
Group tickets for the Royal Pavilion Ice Rink
For group bookings of 10 or more please call 0844 412 4650 (calls cost 7p per minute plus your phone company's access charge). Groups of 10 or more are eligible for a 10% discount.
(Full Price or Junior tickets only)
School bookings should be made via the Groups line (0844 412 4650, calls cost 7p per minute plus your phone company's access charge), and tickets are available at a cost of £5 per head, off-peak only, for students and teachers (not parents) only. To be eligible for the £5 rate, the booking must be made by a member of the teaching faculty, and proof of a school email address will be required. Skaters must be under 18 and in full-time education.
Arrival times
Skaters should aim to arrive 20 minutes before their chosen session. Customers arriving late will be allowed on the ice but may not have their full hour of skating. Tickets are only valid for the date and session time booked, and are strictly non transferrable or refundable.
Weather
The Royal Pavilion Ice Rink is an outdoor event and skating continues whatever the weather so please dress appropriately - if it's raining, you will get wet! Parents of young children may wish to bring a change of clothes during wet weather. Long coats, skirts and scarves should not be worn for visitor's own safety. Please bear in mind, tickets are strictly non-transferrable and non-refundable. Once a ticket has been sold, the quota for that session is reduced so refunds will not be payable if visitors decide to cut short their session.
Bar and Restaurant
The rinkside bar and restaurant is open to skaters and non-skaters, serving delicious food and drink including children's menus, open from 9.30am until late. It is free to spectate.
Toilets
The ice rink has its own toilets - including a disabled toilet and baby change facilities.
Bicycle parking
The ice rink has its own bicycle parking. Bicycles must be parked outside of the building and only at the stands provided. Bicycles attached to fences, trusses or left within the building will be removed.
Bags
Strictly no bags are permitted on the ice. Bags should not be left unattended at any time. Bags left unattended will be removed from the building for the safety of all our staff and customers.
Phone and Cameras
Phones and cameras may not be used on the ice.
Lockers
Lockers are available at a cost of £1 (non-refundable).
Skate sizes
The smallest skate boot is shoe size European 25(age approx 3 to 4 years old). Bob skates (dual blades) are also available for tiny skaters.
The largest skate boot is shoe size UK15 / European 49
Food and drink
Our beautiful rinkside restaurant and bar offers delicious warming beverages, snacks and food. Only food and drink purchased on the premises may be consumed on the premises.
Penguin Skate Aids
The ice rink is obliged to limit the number of penguin skate aids on the ice, and are only available to small children 1.2m tall or less. Skate aids are available on a first come, first served basis so customers are advised to arrive early if they require a skate aid. Penguins must remain within the Beginners' Rink area at all times.
Skaters bringing their own skates can get 50% off the online Full Price 12+ or Junior tickets when purchasing on the day of skating at the onsite box office only, on presentation of their own skates. This offer is subject to availability and a 50p fee for Box Office Transactions. This offer may not be used in conjunction with any other discount or concession.
Cash and all major credit cards are accepted (no cheques please). Diners Club and American Express are not accepted. Tickets may be collected on the day from the Box Office. Visitors should bring the card they used to make the booking, as the card-holder may be required to sign for tickets and the reference number.
Missing Tickets
If you do not receive an email confirming your booking, please
click here
and enter your details to track your order.