Buena Vista Social Club with Sambroso All Stars
Boisdale Of Canary Wharf, London.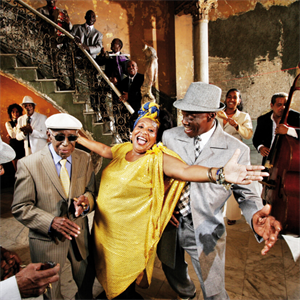 More information about Buena Vista Social Club with Sambroso All Stars tickets
Is there a more iconic Cuban album than Buena Vista Social Club's eponymous debut? Winning the Grammy for Best Traditional Tropical Latin Album, it remains a high watermark not just for Cuban music but world music as a whole, having been only one of two non-English speaking albums to be included in Rolling Stone's 500 greatest albums of all time list.
Doing this album any sort of justice is no easy task, but there isn't anyone better than Sambroso Sambroso, the beating heart of London's Cuban community and flourishing music scene. He has whipped up a bonafide 'all star' group of Cuban musicians who will pay their own unique and loving tribute to the landmark album. As word of his talents spread, Noda was snapped up for a combined 2004 UK tour by South African jazz icon Hugh Masekela and the redoubtable Jazz Jamaica All Stars, which featured such luminaries as Gary Crosby, Denys Baptiste and the Mercury-nominated Soweto Kinch. Co-opted as a salient member of award-winning rude boys Ska Cubano, Noda proceeded to tour the world for the next eight years, soaking up influences, cooking up ideas and winning new friends along the way.
"We're a tribe of Cuban musicians in London representing live music," he says in his good-natured way. "From the roots of rumba to salsa, timba or any Cuban fusion. We're about giving energy and happiness through music, to those who want to join us on our journey." "This guy is so good he should be arrested!" Hugh Masekela
ABOUT THE VENUE:

Jools Holland, Boisdale's Patron of Music presents the best in jazz, blues and soul.
About the venue: https://youtu.be/SJhROJnoJLQ

Boisdale of Canary Wharf is a two-floor venue overlooking Cabot Square which comprises a restaurant, four private dining rooms, Oyster Bar & Grill and Cigar Terrace, the world's greatest Whisky Bar, and the best live music in the capital.

"London's number one jazz venue" Tatler
"Best Whisky Bar in the World" Whisky Magazine
"A carnivore's dream" Evening Standard
"Aged steaks are deemed incredible" Square Meal
"The world's most individualistic style bar & restaurant" Hot Tickets

FOLLOW US:

Facebook: https://www.facebook.com/BoisdaleRestaurants
Twitter: https://twitter.com/boisdaleCW
Instagram: https://www.instagram.com/boisdale_uk/