Sara Flores
Tarantos, Barcelona.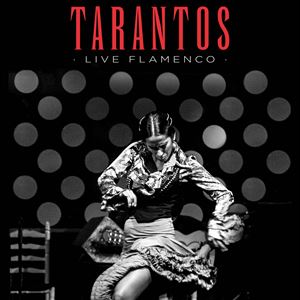 After you buy, click Split It With PayPal

to easily split ticket money with friends.
More information about Sara Flores tickets
Del 28 de mayo al 3 de junio a las 19.30h, 20.30h y 21.30h // Precio: 15€
SARA FLORES
Susana Escoda bailaora, Rosamari Domínguez bailaora, Sara Flores cante, Antonio de Carla cante, Juan Cortés Heredia guitarra, Pardo piano, Paco de Mode cajón.
La voz de Sara Flores es un chorro de energía y pasión. La cantaora, gitana de Barcelona, proviene de la prestigiosa estirpe de Carmen Amaya y por su expresividad y potencia sonora ha sido requerida para actuar con artistas de la talla de Ginesa Ortega, Vicente Soto, Juana la del Revuelo o Miguel Poveda. Además, integra las compañías de baile Con Buen Pie y Somotro Dansa Flamenca, así que sus credenciales dan fe de una carrera de lo más consolidada. Actúa esta semana liderando una formación con lo mejor de la escena del flamenco catalana, un grupo en el que también destacan las bailaoras Susana Escoda y Rosamari Domínguez.
------
From the 28th of May to the 3rd of June at 19.30h, 20.30h and 21.30h // Price: 15€
SARA FLORES
Susana Escoda "bailaora", Rosamari Domínguez "bailaora", Sara Flores voice, Antonio de Carla voice, Juan Cortés Heredia guitar, Pardo piano, Paco de Mode "cajón".
Sara Flores's voice is a powerful stream of energy and passion. The "cantaora", gitana from Barcelona, comes from the renowned Carmen Amaya's bloodline, and thanks to her expressivity and powerful sound, has been asked to perform with renowned artists like Ginesa Ortega, Vicente Soto, Juana la del Revuelo or Miguel Poveda. On top of that, she is a part of the dance companies Con Buen Pie and Somotro Dansa Flamenca, so her credentials are more than enough to consolidate a solid career. She performs this week leading a group integrated by the best of the Catalan flamenco scene, highlighted by the "bailaoras" Susana Escoda and Rosamari Domínguez.
El arte flamenco en su máxima expresión en nuestro tablao flamenco
Espectáculos de flamenco que no dejará a nadie indiferente, con un show flamenco consolidado que se realiza todos los días del año en sesiones de 30 min a las 19:30, a las 20:30 y a las 21:30 (añadiendo una cuarta sesión en época de verano a las 22:30). Cada semana contamos con un grupo diferente de flamenco, formado por bailaoras y bailaores, cantaores y cantaoras, que nos muestran por todo lo alto el arte flamenco. ¡Ven i vive el mejor show flamenco de Barcelona!
Their flamenco art expressed at the highest level in our flamenco tablao
Flamenco shows that will make an impact on everyone, with performances every day of the year in 30-minute sessions at 7.30, 8.30 and 9.30pm (in summer a fourth set is added at 10.30pm). Every week we have a different flamenco group consisting of male and female dancers and singers, who demonstrate the greatness of their flamenco art. Come and experience the best flamenco show in Barcelona!