Scruffys 20th Anniversary Weekend!! Tickets
Scruffy Murphy's, Birmingham.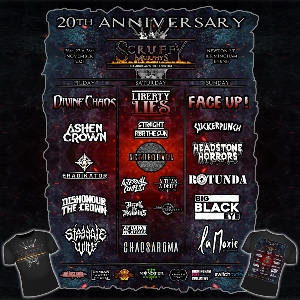 ADVANCED TICKETS ONLY, THE WILL BE NO TICKET SALES ON THE DOOR AT THE EVENT!
Tickets are Non refundable within 3 weeks of the event.
In the event of the weekend being cancelled, full refunds of the ticket value will be issued.
In the event of bands needing to pull out for reasons beyond our control, all efforts will be made to find suitable replacements.
16+ only. 16s to 17s must be accompanied by an adult. No refunds will be given for incorrectly booked tickets.
More information about Scruffys 20th Anniversary Weekend!! tickets
2021 IS THE YEAR!!!!
Scruffys has officially been here for 20 years!!
Over the past 20 years, thousands of bands have played, and now to celebrate we bring you an insane weekend!
Band announcements are every Monday at 7pm via Facebook

Dates: Friday 26th, Saturday 27th, Sunday 28th

Event Page - https://www.facebook.com/events/1446766265697393/?acontext=%7B%22event_action_history%22%3A[%7B%22surface%22%3A%22page%22%7D]%7D
_____________________________________________________
Friday 26th November:


Divine Chaos!
https://www.facebook.com/divinechaosband

Ashen Crown
https://www.facebook.com/ashencrown.uk

Eradikator
https://www.facebook.com/eradikatoruk/

Dishonour The Crown
https://www.facebook.com/DishonourTheCrown

Strangle Wire
https://www.facebook.com/stranglewireband


Saturday 27th November:

Liberty Lies
https://www.facebook.com/LibertyLies

Straight For The Sun!
https://www.facebook.com/straightforthesun/

Netherhall
https://www.facebook.com/NetherhallUK

Internal Conflict
https://www.facebook.com/internalconflict

A Titan, A Deity
https://www.facebook.com/ATitanADeity

Recall The Remains
https://www.facebook.com/recalltheremains

Brocken Spectre!
https://www.facebook.com/brockenspectrehereford

At Dawn We Attack
https://www.facebook.com/atdawnweattack

Chaosaroma
https://www.facebook.com/chaosaroma


Sunday 28th November:

Face Up!
https://www.facebook.com/faceup.uk

Suckerpunch!
https://www.facebook.com/punchbags77

Rotunda
https://www.facebook.com/Rotunda.Brum

Headstone Horrors
https://www.facebook.com/HeadstoneHorrors

Big Black Eye
https://www.facebook.com/bigblackeyeband/

LA Moxie - Solo Acoustic Set
https://www.facebook.com/lamoxieuk