Sea Change Presents Tickets
Multiple Venues, Totnes.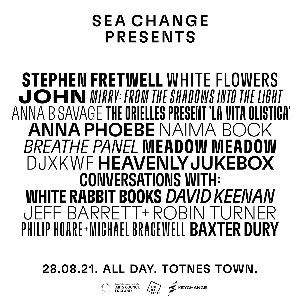 Sea Change Presents a full day of music, film and conversation on Saturday 28th August 2021 in Totnes town, with programming across unique venues in the town to include; St Mary's Church, the Totnes Cinema, The Barrel House Ballroom and The BulI Inn.

+ Visit the Sea Change website for full information on how the day will work.
More information about Sea Change Presents tickets
Our line up includes; cult singer-songwriter Stephen Fretwell who has just returned after more than a decade away with a new LP called 'Busy Guy', dream-pop duo White Flowers, the 6Music A-listed JOHN, The Orielles presenting a screening (and Q&A/DJ set) of their 'La Vita Olistica' film, violinist and composer Anna Phoebe, South-East based four-piece Breathe Panel, singer-songwriter Anna B Savage, improvisational duo DJxKWF, singer-songwriter Naima Bock who co-founded Goat Girl with friends at age 15, the much hyped duo Meadow Meadow who raise from the ashes of the band Spring King and MIRRY: From The Shadows Into The Light, an installation and live experience (with musicians Tom Fraser and Simon Tong) that dives into the magical music and archives of Mirabel "Mirry" Lomer.

White Rabbit Books will be joining the weekend too with conversations including Jeff Barrett and Robin Turner in conversation with author Roy Wilkinson about the 'Believe In Magic' book charting the first thirty years of Heavenly Recordings. David Keenan will be discussing his epic new novel Monument Maker and a session with hugely celebrated writers Philip Hoare and Michael Bracewell. Raconteur Baxter Dury will also be in conversation about his memoire Chaise Lounge, a candid portrayal of teenage life from the heart of rock n roll bohemia.

After the journey that we've all been on in the last 18 months, we'd never be complacent about being able to safely get people back to congregate. After the success of the socially distant live show that we ran with Squid, we've designed a day of live arts for intimate audiences that enables us to safely bring people back together. We've kept it as small as we can and there will likely be some social distancing measures, but our scale enables us to safely present a euphoric live experience. We can't wait.

Always intimate, always different, always special, always rare.


How It Works.

+ Tickets are priced £39.99 per person and this will be exchanged on the day for a wristband that enables you access to all four venues throughout the event.

+ There are no child or young person tickets, but under 12s can attend for free (but must be accompanied by an adult at all times).

+ All tickets must be bought online (via seetickets), in advance.

+ You will collect your wristband on the day from our box office. Full information will be on the Sea Change website.

+ The idea of this event is that although there will likely be some elements of social distancing in place that may affect capacity, the programming runs concurrently across all of the spaces so that you can always find something thrilling to be part of.

+ We will publish the full programme and times in the week ahead of the event.