Sean Noonan's 'The Reluctant Astronauts'
The Basement, York.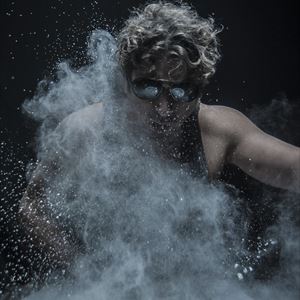 Basement Jazz Club
£7 advance / £10 otd
www.thebasementyork.co.uk/basement-jazz
More information about Sean Noonan's 'The Reluctant Astronauts' tickets
BASEMENT JAZZ CLUB PRESENTS...
Sean Noonan's THE RELUCTANT ASTRONAUTS
Jazz meets folk & story telling from this genre defying and prolific musician.


"The drummer and composer Sean Noonan approaches postmodern jazz and world music from the same angle of self-discovery ....he manages to make his pieces speak coherently, and in a unified voice."


£7 advance / £10 on the door
www.thebasementyork.co.uk/basement-jazz
---------

Rhythmic storyteller Sean Noonan composes and conducts with a pair of drum sticks original multi- stylistic American music. The treasures that he finds along the way are filtered through his distinctive vision to become the unpredictable and far-ranging sounds of Noonan's wide-spectrum music, which combines the eloquence of an Irish bard, the narrative rhythms of Samuel Beckett, and the raw physicality of a street-smart boxer.
An Irish-American drummer with a theatrical bent and a passion for African rhythms, Noonan's excursions are both geographical, taking him to far-flung corners of the world to study cultural and conceptual traditions as he explores the outer limits of music to soak in harmolodic jazz, bleeding-edge rock or avant-garde classical influences. His "wandering folk" theory captures the elusiveness of ever- evolving world music traditions and reorients them through his own particular lens.
That nomadic muse has led Noonan in a wealth of unexpected directions, resulting in an explosion of dynamic releases and projects spanning more than 19 albums and hundreds of performances in more than a dozen countries, including such international festivals as Timezone Festival, EFG London Jazz, Bergen Natt Jazz, Incubate and Jazz Liege. He's worked with an incredible array of artists from across the musical map, including Abdoulaye Diabate?, Marc Ribot, Jamaaladeen Tacuma, Mat Maneri, Susan McKeown, and Can's Malcolm Mooney.
Noonan's approach can be heard at its most distilled on 2014's Bruised By Noon, a solo drum and spoken word album relating gambler Finny Finnegan's 12-round battle with a resolute wall. That was just one part of a trilogy of head-spinningly diverse but interconnected albums released that year, along with In the Ring, a song cycle drawing inspiration from American experimentalists Henry Cowell and Conlon Nancarrow that treated New York's Momenta String Quartet as an extension of the drum set; and Pavees Dance: There's Always the Night, a free-funk trio with legendary bassist Jamaaladeen Tacuma, a veteran of Ornette Coleman's electric Prime Time band, and Lou Reed's last guitarist, Aram Bajakian, performing songs by Noonan with lyrics by infamous Can frontman Malcolm Mooney.
On the 2016 album release "Memorable Sticks", Noonan adopts a magical scepter to dig the depths of the Wieliczka Salt Mine in Poland revealing "Hidden Treasures", an electric epic experience taking hold of funk punked-up jazz new music utilizing Noonan's "wandering folk music theory", as if Henry Cowell, Cecil Taylor, Frank Zappa and Samuel Beckett were out on a night of romance in quest of a good street fight.