Second \ \ \ Mallorca Live Nights
Es Gremi, Palma de Mallorca.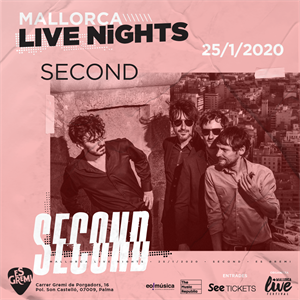 Some or all of the items for this event require you to enter a promotional code
Please enter your details below to buy tickets.
More information about Second \ \ \ Mallorca Live Nights tickets
Entradas: 18€ anticipada (+ gastos de gestión) / 22€ taquilla
¡Vive los mejores conciertos gracias al Mallorca Live Festival! Si te quedaste con ganas de más y estás contando los días para que llegue mayo, no te pierdas las Mallorca Live Nights: una oportunidad única para disfrutar de los mejores directos en la mejor sala de conciertos de Palma.
Second regresan a la isla para presentarnos su último disco, "Anillos y Raíces", el 25 de enero en Es Gremi. La banda murciana ha tenido un verano de vértigo recorriendo de punta a punta todo el territorio español. Su sonido imponente y el renovado espectáculo de luces, sumado a sus grandes éxitos cosechados en años de carrera, han hecho que vayan ganando y confirmando adeptos allá por donde pasan.
Desde que publicaron su último álbum, Second ha agotado todas las entradas de la gira presentación que ofrecieron antes de verano y en época estival han formado parte del cartel de multitud de festivales como el Mallorca Live. Además, también durante este verano, nos han sorprendido con varios remixes de canciones de su último disco transformadas por las manos de Djs de reconocido prestigio nacional como David Van Bylen o GLAS.
Si ya tienes tu abono para el Mallorca Live Festival 2020, puedes conseguir tu entrada para Second con un 10% de descuento. Para ello solo tienes que introducir el localizador de tu abono quitando el símbolo del dólar ($) del principio en la casilla de código promocional y se abrirá un nuevo tipo de ticket con un 10% de descuento. Ten en cuenta que esta promoción está limitada a una compra por abono y que solo estará activa a partir del día siguiente de haber comprado el abono.