Senso Comum
AMAS - Auditorio Mun. Antonio Silva, Cacém.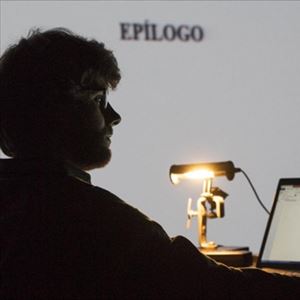 This event is for 12 and over - No refunds will be issued for under 12s.

Where we provide a seating plan for events, every effort is made to show you correct information. Ho...
More information about Senso Comum tickets
21 maio, às 21h
SENSO COMUM - Uma vaga lembrança de um espetáculo por Ana Gil, Nuno Leão, Óscar Silva
no AMAS –Auditório Municipal António Silva
SINOPSE
SENSO COMUM –Uma vaga lembrança de um espetáculo é um acontecimento performativo que resulta do conflito entre a leitura e a escrita do próprio espetáculo. Este trabalho move-se numa zona de radicalização do textocentrismo, levando o espetador a não ter mais nada senãoas palavras que se apresentam à sua frente. É desta crueza que se abrem portas e janelas para poéticas que se constroem ao vivo e se moldam ao espetador, afundado-o numa ficção que, vista de longe, é comum a todo o público. Ao contrário do carácter fixo do poema, este texto vai-se evaporando ao longo do tempo transformando-se em fenómeno. O que sobra é a memória que o texto nos deixa... a memória do espetáculo.
CLASSIFICAÇÃO ETÁRIA | M/12 anos
DURAÇÃO | 60 minutos aprox.
LOTAÇÃO | 92 lugares (+ dois lugares para pessoas com mobilidade reduzida)