Sherlock: The Game Is Now
The Game is Now, West London.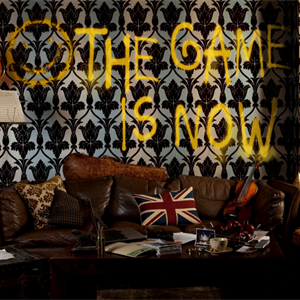 Buy Tickets
London needs Sherlock. Instead it has you. Do you have what it takes to step into the shoes of the great detective?
Don your deerstalker and dive into an all-new mystery brought to you by Steven Moffat and Mark Gatiss, creators of the hit TV series Sherlock.
Enter into the world of Sherlock with immersive sets and environments from the show, as you work together as a team to solve mysteries and puzzles before time runs out.
Play the detective in this brand-new Sherlock case featuring original content from the stars of the show including Benedict Cumberbatch, Martin Freeman, Andrew Scott and more.
Watch The Trailer
Important information:
What is it?
Sherlock: The Game Is Now
is an immersive escape game for teams of 4-6 people. It combines immersive theatre, escape rooms and video and audio from the original cast to bring you into the world of Sherlock, where you must work together to solve puzzles and challenges to escape in time.
How long is it?
The experience lasts 100 minutes in total and afterwards you are welcome to enjoy food and drinks in our Sherlock themed speakeasy - The Mind Palace.
Where is it?
The Sherlock headquarters are hidden in plain sight within the W12 Shopping Centre in Shepherd's Bush, London and is easily accessible via Shepherd's Bush Underground and Overground stations.
Do I need to have seen the show before playing?
You do not have to have watched the original Sherlock TV series to come and have an amazing time but if you are a fan of show you will appreciate the many details from the series included in the experience.
Can I book for less than four people?
Sherlock: The Game Is Now
is an immersive experience for 4-6 players, if you wish to play the game exclusively you have to book at least 4 players but if you have less than four people you can still purchase tickets for our Public games.
Players looking to meet other people to form a team with should join our private Facebook group
Sherlock: The Game Is Now - Find a Team.
Please note:
The minimum number of players for a game to go ahead is four people. If you have not managed to meet the mandatory minimum number of players one week before you are due to play then the slot will be cancelled and you will be refunded.
Buy Tickets