Shrek's Adventure! London LATES
SHREK'S ADVENTURE!, London.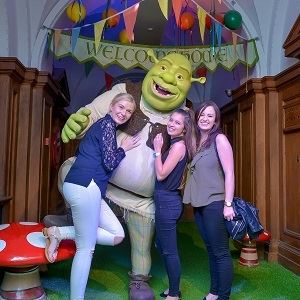 Ogre-sized fun after hours - exclusively for big kids!
DreamWorks Tours Shrek's Adventure! London is opening its departure gate for a special after-hours tour to Far Faaaaaaaar Away (for fully grown Ogres aged 18 years and above) - a brilliantly bonkers adventure perfect for a post-work jolly with your mates.
Stir up the nostalgia as you journey through 10 live interactive shows inspired by characters from your childhood with a script full of cheekiness, peppered with double entendres. Leave your work worries behind you and release your inner child as you're whisked away from London to a magical DreamWork's world! Your adventure will include:
- A jaw dropping 4D bus ride with Donkey in the driving seat - what could go wrong?!
- A special DreamWorks concocted tipple upon arrival
- A shot with Doris, the resident Bar maid of the Poison Apple Pub (you know, the one just off Drury Lane)
It's the attraction and experience that all our guests love, but this time it's just for the grownups! So leave the kids at home and bring your friends on a night out that you won't stop giggling about!
You will need to select a time slot to enter the event however guests are welcome to stay in the attraction until the closing time of 11pm.
This event is for over 18s only. Merlin Events have a Challenge 25 policy, so please bring ID as you may be required to show upon entry.