SHRUG / Flies On You / The Vat-Egg Imposition
Wharf Chambers, Leeds.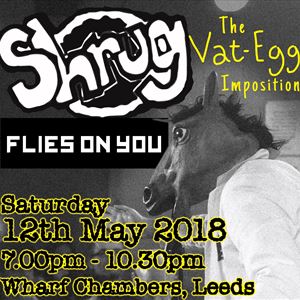 After you buy, click
to easily split ticket money with friends.
More information about SHRUG / Flies On You / The Vat-Egg Imposition tickets
Shrug have got a new album out! Less than 30 years since their debut masterpiece "Septober, Octember, No Wonder", comes that difficult second album "Island Complex", on Our Mam's Records – possibly the best follow-up since White Light White Heat*. They enjoyed their appearance at Wharf Chambers last October so much that they're coming back all the way from Middlesborough to play some songs from the new LP, and some songs not from it, on Saturday May 12th. It's not just 'cos frontman Rob left some of his stage props here and wants them back.
Flies On You live combo will add some post-punk finesse to the proceedings. Doug, the enigmatic Flies On You front man & superb lyricist, first shared a stage with Shrug with his band Nerve Rack at the Royal Park back in the nineties, and both released records on the much missed Meantime label. Remember that, it might come up next time you're doing a pub quiz.
"Frank Sidebottom argues with the Fall at a Julian Cope gig" - no one expects the Vat-Egg Imposition! Hardly surprising, as this will only be their second gig – an ideal opportunity to see them before they become stadium artistes.