Silent Music Seeing Sound
Newcastle Arts Centre, Newcastle upon Tyne.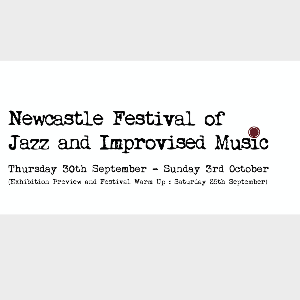 Under 18s must be accompanied by an adult. We cannot issue refunds to under 18s who are not accompanied by an adult.
More information about Silent Music Seeing Sound tickets
Silent Music Seeing Sound
(live audience event and gallery exhibition)

Newcastle Festival of Jazz and Improvised Music 2021

Saturday 25th September
Doors: 6.00pm (Event Starts: 6.30pm)
Newcastle Arts Centre (Gallery Space)


Silent Music Seeing Sound

Jo Ganter (Visual Artist)
Raymond MacDonald (Composer and Saxophonist)
George Burt (Guitar)
Andy Champion (Bass)

Newcastle Festival of Jazz and Improvised Music are pleased to present a two week exhibition of graphic scores at Newcastle Arts Centre. The original prints in this exhibition are made by Jo Ganter RSA with composer and musician Raymond MacDonald.

Graphic scores represent music using visual images outside the realm of traditional music notation. These are independent works of visual art in their own right, however, the images here also sit on music stands during performances to be read by small groups of musicians. Ganter and MacDonald write short explanatory notes for the musicians to direct their reading of each image. Compositional elements in the images can convey organizational and relational features in the music, for example, solo, duo or trio events. Colour and shape might denote instrumentation, texture of music, pitch and tone. Time is often expressed through the horizontal and vertical lines of the compositions. The images are then the base for unique musical explorations and improvisations.

For the opening preview on Saturday 25th September the graphic scores will be performed by Raymond MacDonald with George Burt and Andy Champion, alongside an artists talk with Jo Ganter and Raymond.

Artist Profiles

Jo Ganter RSA is a visual artist, printmaker and Lecturer in Fine Art at Edinburgh College of Art. She has exhibited internationally, showing at the A.I.R Gallery in New York in 2000 and winning the Canson Polska Award at the Krakow Print Triennial in 2012. Her work is included in many major collections, including The Museum of Fine Arts, Antwerp and the New York Public Library.

www.joganter.com

Raymond MacDonald is a saxophonist and composer who has released over 60 CDs and toured and broadcast worldwide. He has written music for film, television, theatre, radio and art installations and much of his work explores the boundaries and ambiguities between what is conventionally seen as improvisation and composition. He is Professor of Music Psychology and Improvisation at Edinburgh University and lectures, publishes and runs workshops internationally.

www.raymondmacdonald.co.uk


Stage Times (may be subject to slight adjustments)

6.30pm - 8.00pm: Silent Music Seeing Sound (Exhibition Preview with Performance and Talk)

(Following the exhibition preview night on Saturday 25th September the show will run for two weeks Monday - Saturday and is Free Entry on arrival)





Tickets

Opening Night Preview with Live Performance: £5 (plus booking fee when buying online)

Tickets for the live audience concert are available from Seetickets

www.seetickets.com

Age Restrictions: 14+ with under 18's accompanies by an adult
Accessibility: Aissted access for wheelchair users, contact venue for details
Travel: Any Bus or Metro to Central Station

Newcastle Arts Centre
69 Westgate Road, Newcastle Upon Tyne, NE1 1SG
0191 222 9882
admin@newcastle-arts-centre.co.uk


Weblinks

www.newcastle-arts-centre.co.uk
www.jazznortheast.com
www.newcastlefestivalofjazzandimprovisedmusic.co.uk


This concert is presented by Jazz North East and Newcastle Arts Centre in association with Newcastle Festival of Jazz and Improvised Music with support from Performing Rights Society Foundation and Arts Council England.