Simon Todd, Phil Caffrey & Jim Hornsby
The Greenhouse at Tynemouth Park, Tynemouth.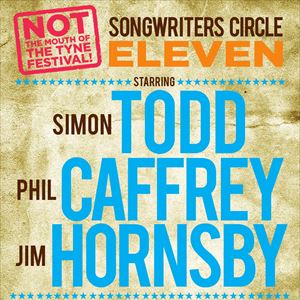 Under 16s must be accompanied by an adult. We cannot issue refunds to under 16s who are not accompanied by an adult.
More information about Simon Todd, Phil Caffrey & Jim Hornsby tickets
Simon Todd & Phil Caffrey take their ever-popular Songwriters Circle concerts into an 8th year.
Three accomplished musicians share the stage simultaneously, performing their songs in rotation in the 'Nashville Round' style.
This time their special guest is Jim Hornsby.
Founder member of Northumberland favourites, Morgan le Fay, Todd is an accomplished singer-songwriter, having rubbed shoulders with the likes of Chris Difford and Karine Polwart. His latest album, 'Half Empty / Half Full' was produced by Boo Hewerdine. Strong melodies, a big voice and quite possibly some dodgy banter.
www.simontodd.co.uk
Phil has been writing and singing songs for almost all of his life, but surprisingly, when he agreed to be the special guest on the opening leg of Dave Fenley & Simon Todd's 2012 UK tour "Beer, Blokes & Ballads", it was to be the first time he had performed as a solo acoustic singer-songwriter. Revered in the North East for live performances with "The Caffreys", who reached the final of BBC TV's 'UK's Best Part-Time band', Phil now dedicates much of his time to teaching and coaching aspiring young musicians; passing on his skills to the next generation, and giving them a platform on which to develop and perform.
www.thecaffs.com
Not content with his long-standing rep as the country guitar/dobro player of choice in the NE, Jim Hornsby has evolved a line of songwriting which takes memories of guitar-shop window gazing, the thrill of discovering early heroes like Duane Eddy (and some closer to home), first attempts at chicken-picking, blends them with memories of paper-lads, local hard-lads and early romance, and distils for us a wind-tossed Northern landscape scattered with hopes and dreams.
Jim's a canny, acerbic observer of human foibles as well as human warmth: these, economical, punchy vignettes stand alongside those of the finest of contemporary 'roots' writers. Catchy choruses, infectious instrumental hooks complete the package!