SJM Concerts present A Gay and a NonGay
Bush Hall, London.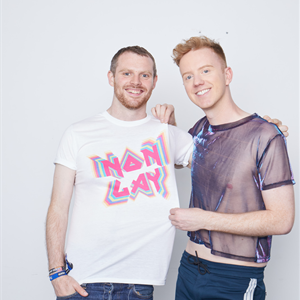 Don't forget, ticket holders get a menu deal on food for their table at Bush Hall Dining Rooms (two doors down). Please call 020 8749 0731 if you'd like to make a reservation or email eat@bushhallmusic.co.uk
16+ only. 16s to 17s must be accompanied by an adult. No refunds will be given for incorrectly booked tickets.
More information about SJM Concerts present A Gay and a NonGay tickets
"A hilarious take on love, friendship and sex" Time Out
"Hosts James Barr and Dan Hudson have quietly built one of the most fundamentally kind and funny podcasts in Britain" Radio Times
"'A Gay and a NonGay' is an original – and funny – exploration of sexuality between friends of different orientation." i Newspaper
"Incredibly funny and energetic" Deadline
"Conversations that will help society progress towards freedom, for those who do not have full use of theirs yet…Barr and Hudson's chemistry forms the basis of this delightfully filthy show…It's warm, charming, sweet, hilarious and absolutely brilliant!" ????? The Wee Review (for the live show at the Edinburgh Fringe 2019)
They've kissed on the front cover of Attitude magazine, come face to face with gay conversion therapy in Northern Ireland in their three-part acclaimed BBC documentary 'From Gay to Non-Gay?', and slayed a smash hit 5 star run at the Edinburgh Fringe Festival in 2019. James also took the Edinburgh Fringe by storm in 2019 with his solo show Thirst Trap with five-star reviews and much critical acclaim. Now, the UK's biggest LGBTQ+ award-winning podcast A Gay and A NonGay is delighted to announce that a live version of the much-loved show is embarking on a UK tour this March. And every stop along the way will have fascinating famous guests to add even more sparkle (and nonsparkle) to the occasion.With traditionally taboo subjects being cracked open by honest conversation, A Gay and A NonGay's live show maintains its mission to promote equality, freedom and friendship whilst making listeners laugh. Sending messages of hope and inclusion through their frank and funny back and forth, James and Dan hope to continue shuffling the world toward a brighter existence.
In a time when so many people are threatened by a rhetoric of hate from the people in power, A Gay and A NonGay challenges our differences head on and resolves that no matter who you are, or what you're into (Bruce Springsteen or Britney), love is love and Gays and NonGays can be friends.