Skating Polly Tickets
The Sunflower Lounge, Birmingham.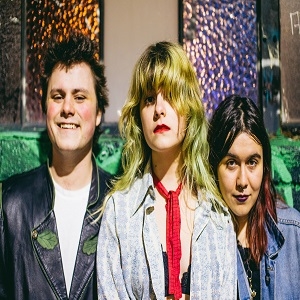 This event is for 16 and over - No refunds will be issued for under 16s.
More information about Skating Polly tickets
Indie Midlands In Association With Sedate Bookings Presents Skating Polly + Special Guests

Skating Polly

There's a difficult to describe, yet timeless quality to certain songs that transcend genre or era. It's something that you can't fake or contrive and it's what lies at the core of Skating Polly's music. Admittedly the female-driven alternative acts that inspired the band such as Veruca Salt, X, The Breeders, L7 and Babes In Toyland (the latter of whom Skating Polly toured with in Europe) aren't typical reference points for most of today's up-and-coming bands, but to Kelli Mayo and Peyton Bighorse they should be. "The thing that we identify with in a lot of those bands is that they can be really aggressive and loud while also being super melodic," Kelli explains, adding that the new dynamic of brother Kurtis Mayo joining the band helped them to be more expansive when it came to their arrangements: "Everything happened very smoothly when Kurtis became part of the band. It just felt natural having him there and writing with him."

The threesome tracked their fifth studio record 'The Make It All Show' (May 2018, El Camino Media) at Seagrass Studio in Los Angeles with producer Brad Wood(Smashing Pumpkins, Liz Phair) who also helmed their 'New Trick EP' (feat. Louise Post and Nina Gordon of Veruca Salt). With ages ranging between 17 and 21, Skating Polly continue to produce music well beyond their quantifiable years and 'The Make It All Show' is their most fully realized work yet, hinting at a bright future for one of rock's most promising acts.