Skids
The Empire, Coventry.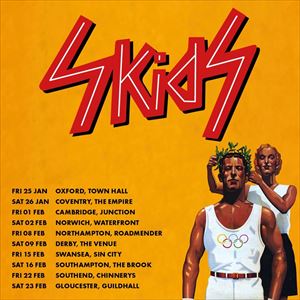 More information about Skids tickets
AGMP presents
SKIDS
+ support: THE RAMONAS
The Skids formed in 1977 in their home town of Dunfermline, Scotland by Richard Jobson, Stuart Adamson, Bill Simpson & Tom Kellichan. After releasing an independent single the band were played by John Peel, supported The Clash in concert and then were signed to Virgin Records in 1978. Their first singles were "Sweet Surburbia", "The Saints are Coming" and "Into the Valley" - the latter reaching the UK Top Ten in early 1979.
Their seminal debut album "Scared to Dance" came out in 1979 which was quickly followed by two chart singles - "Masquerade" and "Working for the Yankee Dollar". Both singles were taken from the Bill Nelson produced second album "Days in Europa". The album also featured new member Rusty Egan of Rich Kids & Visage fame after the departure of Tom Kellichan. The band released two more albums "The Absolute Game" (1980) and "Joy" (1981) before splitting.
The Ramonas are the UK's all girl tribute to The Ramones, one of the most influential punk rock bands in history.
The band were formed in honour of the Ramones back in 2004, by Clare Product after having backed up Marky Ramone as Johnny at the Underworld in England.
The Ramonas capture the magic which the Ramones had in their early days with their intense on stage energy levels whilst looking much better than Joey, Johnny, Dee Dee or Marky ever did.