Skinnyman + Fliptrix
Subterania, London.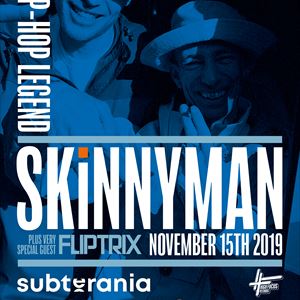 Subterania,

12 Acklam Road, Portobello
London.
W10 5QZ
Nearest Tube - Ladbroke Grove (3 min walk)

Bus - 23, 52, 295, 7, 452, 70
info@subterania.net
16+ only. 16s to 18s must be accompanied by an adult. No refunds will be given for incorrectly booked tickets.
More information about Skinnyman + Fliptrix tickets
20 years ago at Subterania, Eminem performed his first ever London show, and Skinnyman infamously battled him on stage.

20 years later the UK hip-hop legend is back for a very special headline of his own, with High Focus head honcho Fliptrix in tow.

Skinnyman's only LP is considered a UK hip-hop masterpiece.

"The police patrol these streets like beasts, instead of catch­ing the thieves they pull us up and give us beats," Skin­ny­man raps on the track, before describ­ing kids rolling through the neigh­bour­hood on stolen bikes: "they're just deal­ing the cards that life has dealt em, half of their crews are now lock­down in Feltham".
It's not so hard to argue that both Hay­den and the album it's from – Skinnyman's sole album, 2004's Coun­cil Estate of Mind – are time­less. Even on release the album was a work more out of time than of its time – this was a crossover UK hip-hop record released when first wave grime at its peak. While it set out to cap­ture con­tem­po­rary Britain, the LP's tracks are glued togeth­er by inter­ludes sam­pled from Alan Clarke's 1982 TV play Made in Britain. Though Skin­ny­man couldn't ful­ly iden­ti­fy with Tim Roth's delin­quent thug Trevor, he could recog­nise the world of juve­nile deten­tion cen­tres and borstals, even spe­cif­ic places such as Hatch­mere House.
"We all felt like some­how we'd been betrayed by the sys­tem but we couldn't quite pin­point it."
Plus very special guest Fliptrix:

Managing director of High Focus Records, one quarter of The Four Owls and a solo career with stadium sized ambitions - capturing his own blend of boistrus UK influenced boom bap.