Slade Tickets
Picturedrome, Holmfirth.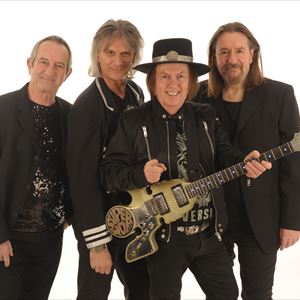 More information about Slade tickets
It's Christmas !!! And it wouldn't be Christmas without Slade....Cum on feel the noise at Slade's Picturedrome Christmas Party.

SLADE - Without doubt one of the most exciting bands to come out of
Great Britain in the past 50 years. With their unique blend of perfect poprock'n'roll,
outrageous flamboyance and pure fun, and no less than 23
Top-20 singles of which 6 were No-1 smash hits...plus 6 smash albums,
Slade have become a firm favourite in the hearts of pop fans all over the
world.

SLADE'S chart career has spanned 6 decades and their enduring songs
"Far Far Away", "Cum On Feel The Noize" and "Coz I Luv You" are still
featured today in TV commercials for some of the Worlds biggest
companies.

Throughout the seventies, Slade became one of Europe's biggest bands,
touring and recording continually and making regular trips to America,
Japan and other parts of the world. Slade's catalogue of hits are
synonymous with the era:- "Take Me Bak 'Ome", "Mama We'er All Crazee
Now", "Cum On Feel The Noize", "Gudbye T' Jane", along with the many
others provided a soundtrack to the Glam Generation and are still today,
heavily featured on any retrospective of the time.

Slade today is still one of the most exciting bands on the road, and their
stage performance is a dynamic, powerful and exhilarating roller-coaster
ride of pure unadulterated rock'n'roll.