SLIM CHANCE Tickets
Eel Pie Club, Twickenham.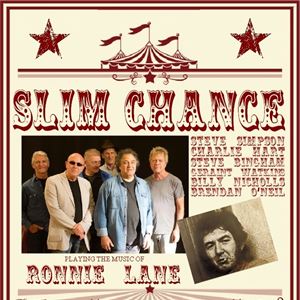 More information about SLIM CHANCE tickets
Slim Chance has its origin in the early 70's, formed by the legendary and brilliant songwriter, Ronnie Lane, who had been a mainstay of both the Small Faces and The Faces.
Slim Chance today is a tight band of good friends, which has evolved around three original members of Ronnie's band -
Steve Bingham, Charlie Hart
and
Steve Simpson. They are now regularly joined by
Brendan O'Neill, Billy Nicholls, and
Geraint Watkins, and together they deliver a unique and entertaining show, both joyous and of a high musical calibre.
The Slim Chance extended family consists of a host of wonderful musicians whose contributions will always be greatly appreciated: Jim Cregan, Colin Davey, Alun Davies, Des Horsfall, Malcolm Hoskins, John Lingwood, Frank Mead, Nick Pentelow, Jim Russell, James Walbourne and Graham Walker.
Their set includes a host of classic Ronnie Lane songs, including Ooh La La, Debris, The Poacher and How Come, as well as original tracks from their more recent albums which have received rave reviews in all the top music press.
Pete Townshend guests on their latest album.