Son De Akí
Tarantos, Barcelona.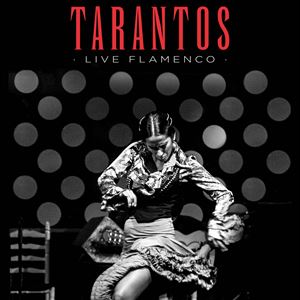 After you buy, click Split It With PayPal

to easily split ticket money with friends.
More information about Son De Akí tickets
Del 21 al 27 de mayo a las 19.30h, 20.30h y 21.30h // Precio: 15€
SON DE AKÍ
Isaac Barbero bailaor, Rosamari Domínguez bailaora, Francisco Hidalgo bailaor, Mónica "La Chicuela" cante, Luís "El Granaíno" cante, Tati Amaya guitarra, Luís "El Lua" percusión.
Desde que empezó a trabajar en Tarantos con sólo 17 añitos ha pasado bastante tiempo y centenares de actuaciones en la carrera profesional de Isaac Barbero. Este bailaor catalán ha paseado su arte temperamental por escenarios de Japón, Polonia, Francia o Luxemburgo y compartido proyectos con artistas como Ginesa Ortega o Juan Ramon Caro. Hoy, su apabullante control rítmico se une a la figura imponente de Rosamari Domínguez y de Francisco Heredia y al apoyo musical de cuatro músicos con gran solvencia para ganarse el favor y el alma del público asistente.
------
From the 21st to the 27th of May at 19.30h, 20.30h and 21.30h // Price: 15€
SON DE AKÍ
Isaac Barbero "bailaor", Rosamari Domínguez "bailaora", Francisco Hidalgo "bailaor", Mónica "La Chicuela" voice, Luís "El Granaíno" voice, Tati Amaya guitar, Luís "El Lua" percussion.
It's been a while since he began performing at Tarantos at the young age of 17. Hundreds of shows later, Isaac Barbero is back. This Catalan "bailaor" has showed his emotional art in stages from all over the world, including Japan, Poland, France or Luxembourg, and has shared projects with artists like Ginesa Ortega and Juan Ramón Caro. Nowadays, his incredible rhythm control joins the imposing Rosamari Domínguez and Francisco Heredia, with the musical support provided by four musicians to earn the soul of the public.
El arte flamenco en su máxima expresión en nuestro tablao flamenco
Espectáculos de flamenco que no dejará a nadie indiferente, con un show flamenco consolidado que se realiza todos los días del año en sesiones de 30 min a las 19:30, a las 20:30 y a las 21:30 (añadiendo una cuarta sesión en época de verano a las 22:30). Cada semana contamos con un grupo diferente de flamenco, formado por bailaoras y bailaores, cantaores y cantaoras, que nos muestran por todo lo alto el arte flamenco. ¡Ven i vive el mejor show flamenco de Barcelona!
Their flamenco art expressed at the highest level in our flamenco tablao
Flamenco shows that will make an impact on everyone, with performances every day of the year in 30-minute sessions at 7.30, 8.30 and 9.30pm (in summer a fourth set is added at 10.30pm). Every week we have a different flamenco group consisting of male and female dancers and singers, who demonstrate the greatness of their flamenco art. Come and experience the best flamenco show in Barcelona!