SOUR KIX With Special Guests - Get Woking Loud
FIERY BIRD, Woking.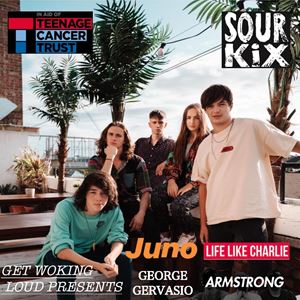 SOUR KIX are coming back to rock their home town, Woking, all in aid of Teenage Cancer Trust!
Under 13s must be accompanied by an adult. We cannot issue refunds to under 13s who are not accompanied by an adult.
More information about SOUR KIX With Special Guests - Get Woking Loud tickets
After a busy year of gigging up and down the country, Amelie and bandmates: Ollie, Ed, Andries and Louis are bringing it back to their routes and putting on and end of year party, not to be missed. Their energetic performances will be sure to engage an exhilarated audience, pulsing out melodic vocals, killer drum fills, fat bass riffs and face melting guitar licks - Sour Kix will ensure you will be dancing and singing along. With support from diverse local artists Armstrong, Juno, Life Like Charlie and George Gervasio, the Fiery Bird in Woking is the place to be on 20th December!
Sour Kix are a young band from Woking in Surrey. Formed 6 years ago they are made up of siblings Amelie (vocals), Ollie ( drums) and Louis (guitar and vocals) alongside best friends Ed (bass guitar) and Andries (guitar and bass). A highly energetic mix of pop/rock explodes from their performances. Their skill at pleasing the crowd with a selection of well crafted originals along with a number of high octane covers (which they like to put their own spin on) has culminated in them being requested to play at numerous festivals around the country along with supporting some amazing bands across the South of England. They gained further attention when they were asked to play live on Channel 4's TFI Friday, drawing acclaim from presenter Chris Evans and guests Ronnie Wood, Ellie Goulding and The Vamps, aswell as sharing the mainstage with acts such as the Kaiser Chiefs, Scouting For Girls and The Vamps. Their first EP 'Wildest Dreams' has been extremely well received, with more material due to be released in the new year.
Juno are made up of 4 friends who met at secondary school and have been playing together for 3 years. They've had recent success with the release of their debut single "Do You Want Me" which has since received over 30,000 streams on Spotify. They are inspired by bands such as "The Night Cafe", "The Kooks" and "Two Door Cinema Club". The band consists of Max (lead vocals and rhythm guitar), Ben (lead guitar and backing vocals), Tom (bass guitar) and Ted (drums) who all love having a laugh and making and performing music together.
Armstrong are a 3-piece indie rock band based in Surrey/Hampshire. Formed in 2018, they've spent the last year touring non-stop, playing everything from pubs and clubs to schools and festivals; anything to fuel their fire! They received the award for motivation presented by Innovative & Unique for 2018. The Band is Will Collins, Ollie Woods and Tom Leadbetter, three best mates who push each other to be the best that they can. Constantly honing and improving, their influences include Catfish and the Bottlemen, Foo Fighters, Bon Iver and The Beatles: as diverse a range as their sound!
Life Like Charlie pours out emotional, anthemic music. Charlie sings about his life experiences, condensed into catchy melodies and clever hooks. With singles such as 'My Heart Beats' and 'The Love Has Gone' sitting as true favourites for his devoted fanbase, Charlie has recently released a raw stripped back EP sure to captivate an audience.
George Gervasio is an aspiring singer-songwriter based in Woking who is currently busking around the UK playing and promoting his new heart-strung debut EP.