Spear of Destiny Tickets
Exeter Phoenix, Exeter.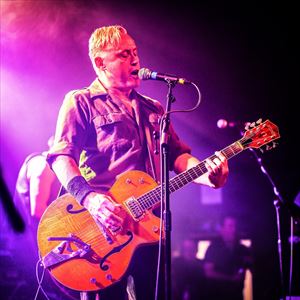 Seating is available for customers with access needs, please call the venue to book. 01392 667080 Opt 1
More information about Spear of Destiny tickets
Hard to believe we know but it is true, Kirk Brandon has now been leading Spear Of Destiny for over 37 years.
Spear Of Destiny were formed in 1983 after the demise of Kirk Brandon's post punk iconic rockers Theatre Of Hate. (Brandon had also, before TOH, been the main man in every punk rockers favourite band of that era, The Pack).
The current line up of Spear is the longest serving to date and features Adrian Portas (New Model Army / Sex Gang Children), Craig Adams (Sisters of Mercy / The Cult / The Mission) and Phil Martini (Jim Jones and the Righteous Mind) on drums. Long time Brandon cohort Steve Allan-Jones will be covering the keyboards. During 2019 the line up was boasted by Saxophonist Clive Osborne who will be staying in the line up for 2020.
On 6 Apr 2018 Spear Of Destiny released their fourteenth studio album, Tontine. The album was been fully funded from a private fan pre-sale. The album is officially released for Brandon's own Eastersnow Recording Company label imprint and is available on CD, Vinyl and Download across Europe. US label Cleopatra Records will be handling the North American release.