Spiritus + Torre Dos Clérigos Tickets
Igreja dos Clérigos, Porto.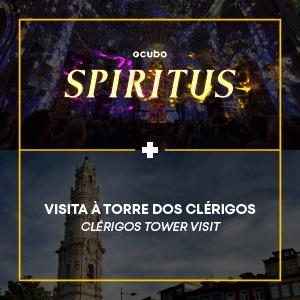 This ticket guarantees entry to both immersive experiences:
- SPIRITUS
- VISIT CLERIGOS TOWER
In two separate sessions, which may be used on the same day or on different dates.
The booking of the two desired dates and times must be made directly by the visitor through the contact porto@portugalagenda.com / +351 910120128
Availability subject to availability.
More information about Spiritus + Torre Dos Clérigos tickets
Spiritus presents itself as an unsettling multimedia show that transcends the walls of the most emblematic church of the city of Porto, Clérigos Church.
Created by OCUBO, and inspired by the poem "In the end, the best way of travelling is to feel" by Álvaro de Campos, the show evokes the existentialism of Fernando Pessoa's heteronym where the concept of being is translated into the union of the individual with the outside world.
" In the end, the best way of traveling is to feel.
To feel everything in every way.
To feel it all excessively"
An artistic project brimming with music, light, energy, and color, through an abstract, fluid and soundly intense presentation, Spiritus fills the iconic Church of Clérigos with visual poetry, levity and harmony.
Spiritus elevates the public's imaginarium through a sensory trip voiced by João Reis, renowned Portuguese theatre, cinema and TV actor.