Stanley Brinks and The Wave Pictures
YES (The Basement), Manchester.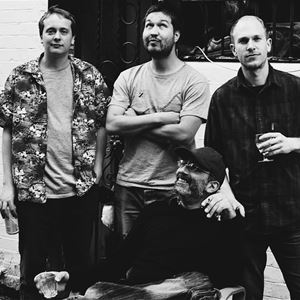 More information about Stanley Brinks and The Wave Pictures tickets
Alphaville presents Stanley Brinks and The Wave Pictures at YES (basement) on Monday 16th September.
Stanley Brinks is joined by The Wave Pictures for their fifth album together; and their first since 2015's "My Ass". That's not to say either have been slacking in that time, both are notoriously prolific: The Wave Pictures have turned out 5 albums and Brinks 7 since they last came together in the studio.
Stanley Brinks was born in Paris, France, in 1973. He studied a bit of biology and worked as a nurse for a while. Half Swedish, half Moroccan, strongly inclined to travel the world, he soon began spending most of his life on the road and developed a strong relationship with New York. By the late 90s he'd become a full time singer-songwriter – André Herman Düne – as part of three piece indie-rock band, Herman Düne. Several albums and Peel sessions later and after a decade of touring Europe, mostly with American songwriters such as Jeffrey Lewis, Calvin Johnson and early Arcade Fire he settled in Berlin. The early carnival music of Trinidad became a passion, and in the early 21st century he became the unquestioned master of European calypso, changing his name to Stanley Brinks. Under this moniker he has recorded more than 100 albums, collaborated with the New York Antifolk scene on several occasions, recorded and toured with traditional Norwegian musicians, and played a lot with The Wave Pictures.
The Wave Pictures are David Tattersall, Franic Rozycki and Jonny 'Huddersfield' Helm. Formed in 1998 when Franic and David lived in a village called Wymeswold, the band played with several drummers until Jonny became a permanent member in 2003 replacing Hugh J Noble. In the beginning the band learned to play together by covering Jonathan Richman songs but soon David was writing lots of original material.
They have since released six studio albums to critical acclaim and played numerous sessions on BBC 6 Music, Radio 1 and Xfm. Interest generated from these recordings has enabled The Wave Pictures to play shows all over the world with artists including Jeffrey Lewis, Darren Hayman, Stanley Brinks, Freschard and Herman Düne.