STEAK & ELEPHANT TREE (co-headline)
The Underworld Camden, London.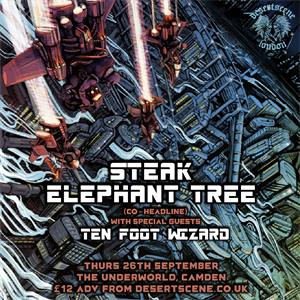 This event is for 18 and over - No refunds will be issued for under 18s.
More information about STEAK & ELEPHANT TREE (co-headline) tickets
The triple headed horror re-appears from the depths for its annual bacchanal of debuachery. A bone-shattering knees up for two of London's heaviest homegrown hounds, STEAK & ELEPHANT TREE will return to their spiritual home of The Underworld to make you wish you'd booked the next day off work before the first note strikes. With both bands set to release new albums in late 2019 revellers will be treated to a debut of new tracks, plus a selection of slow'n'low heavy riffs from Steak's boozy back catalogue and a hearty plateful of Elephant's Tree well established grooves that have firmly secured them as one of our finest exports. You could say this was a pre-album release party... but the truth is we all had so much fun last year we just decided to do it all over again.

Both bands are establishing themselves as some of the most ferocious and captiviating live acts on the circuit, with STEAK's recent performance at the inagural Desertfest NYC hailed as "a mission statement of what the festival brand is all about, from top to bottom. It was right on and then some." (JJ Koczan, The Obelisk) ELEPHANT TREE also recently opened up the main stage at Desertfest London met with a roaring amount of admiration "Throwing out bouncing stoner grooves, fat and fuzzy bass soloing and wailing, climbing guitars, they grin their way through the whole set, clearly loving it just as much as the punters." (Jay Hampshire, The London Economic)
And what's a hell hound without it's third head? The evening will once again be opened up cosmic punk'n'roller party starters TEN FOOT WIZARD

Tickets are £12 in advance with the booze and riffs flowing well into the night at The Black Heart after the show!