Steven Page Tickets
The Bear Club, Luton.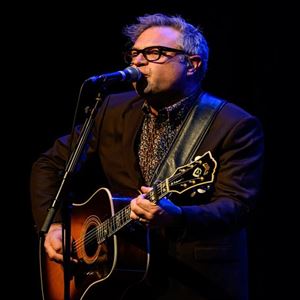 Under 18s must be accompanied by an adult. We cannot issue refunds to under 18s who are not accompanied by an adult.
More information about Steven Page tickets
Award-winning
musician, singer and songwriter
Steven Page is a founding member of the iconic band Barenaked Ladies, with whom he was inducted into the Canadian Music Hall of Fame in 2018. Touring and releasing original music under his own name for over ten years, Page has continued his artistic journey with diverse projects in music, film, theatre and television.
He has composed six Stratford Festival scores, has collaborated and toured North America with Toronto's innovative Art of Time Ensemble and performs with his rock star pals as a member of the Trans-Canada Highwaymen.

With his Trio bandmates Craig Northey (Odds) and Kevin Fox, Steven has performed throughout Canada, the US, UK and Ireland.
More recently, the trio successfully and safely completed tours of Ontario Performing Arts Centers, as well the Northeast and Midwest U.S.
Steven and his Trio have also performed classical crossover concerts with the VSO, TBSO, PEI Symphony, Symphony New Brunswick, Red Deer Symphony, Ontario Philharmonic, Hamilton Philharmonic and Niagara Symphony.

As a mental health advocate, Steven Page has spoken extensively about his own journey through speaking engagements, appearances, podcasts and interviews.
The Stratford Festival debut of Steven Page's musical Here's What It Takes, co-written with playwright Daniel MacIvor and delayed due to Covid 19, will hopefully resume in the near future.
Steven had a very special role to play at the
Governor General's Performing Arts Awards
in their recently televised tribute to Ryan Reynolds.
The Steven Page composed song "Canada Loves You Back" and accompanying video became a viral hit and the song is available for download and streaming with proceeds to Reconciliation Canada.
Steven is a featured artist in the Brian Wilson documentary,
The Long Promised Road and he has recently made guest appearances on television's Corner Gas Animated and Tallboyz
When in-person shows halted in 2020, Steven Page's
Live From Home
concerts kept him engaged with fans and brought a community of followers together from around the world.
Over eighty shows later, these virtual concerts take place most Saturday nights at 5pm EST via Zoom.
New music, Steven's sixth solo album, will be released in Fall, 2022.
StevenPage.com,
facebook.com/stevenpage
@stevenpage (IG and Twitter)
"The artist has to 'keep pushing through', and it isn't easy, but Mr. Page has the talent to make that effort worthwhile."
"[Steven Page] sings with heartfelt verve in this highly entertaining show"
Spill Magazine:
"Song after song, Page demonstrates superb songwriting and amazing pop sensibilities, supported by strong arrangements and production. This album is for everyone: BNL fans, Steven Page fans, pop music fans. Music for the masses delivered by that unmistakable tenor voice. You need to hear this."